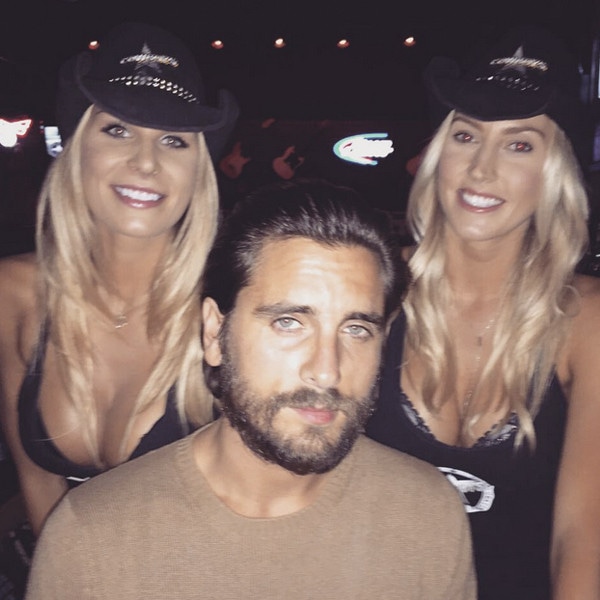 Instagram
Scott Disick continues to party.
The 32-year-old ex-boyfriend of Kourtney Kardashian spent Saturday night partying it up at Cowboys, a country-themed night club in Canada, a day after he hosted a bash at 1OAK nightclub in Las Vegas, one of his favorite hotspots, and broke his silence following the split.
Kourtney, 36, who had broken up with him three weeks ago, had spent Friday night at home with their children. The two are parents to Mason Disick, 5, Penelope Disick, 3, and 7-month-old Reign Disick.
At Cowboys, Disick, wearing a tan sweater and skinny jeans, posed for a photo with two blonde women wearing cleavage-baring black tops and black cowboy party hats, as seen on the nightclub's Instagram page. "Scott Disick partying with our cowbabes!," the post read. "#cowboyscalgary #thathappened."
According to a source, Scott was a "great host" to the party and pleased many attendees in the venue.
"He was very friendly and kind, patient, gracious and open to talking to everyone," our insider shared. "Everyone LOVED having him up in Calgary, Canada and there is an open invite to have him back any time."
Scott enjoyed sushi at  Zen 8 Grill inside the casino for about one hour until hitting up Cowboys Dance Hall for less than three hours. Our source says he only had bottled water to drink during the night. 
"The lord takes cowboys!" read one post from the venue's Instagram. "BEST party in Calgary! #peasantparty #scottdisick."
The reality star, who has battled substance abuse in the past, had checked into a treatment facility days after his and Kardashian's split but left after just a few hours. Sources told E! News that his friends are trying to get him to return to rehab. Scott has not commented.
Disick did, however, enjoyed a massive platter of sushi before the party. 
"Sushi before the storm!" he wrote on Instagram.
—Reporting by Holly Passalaqua