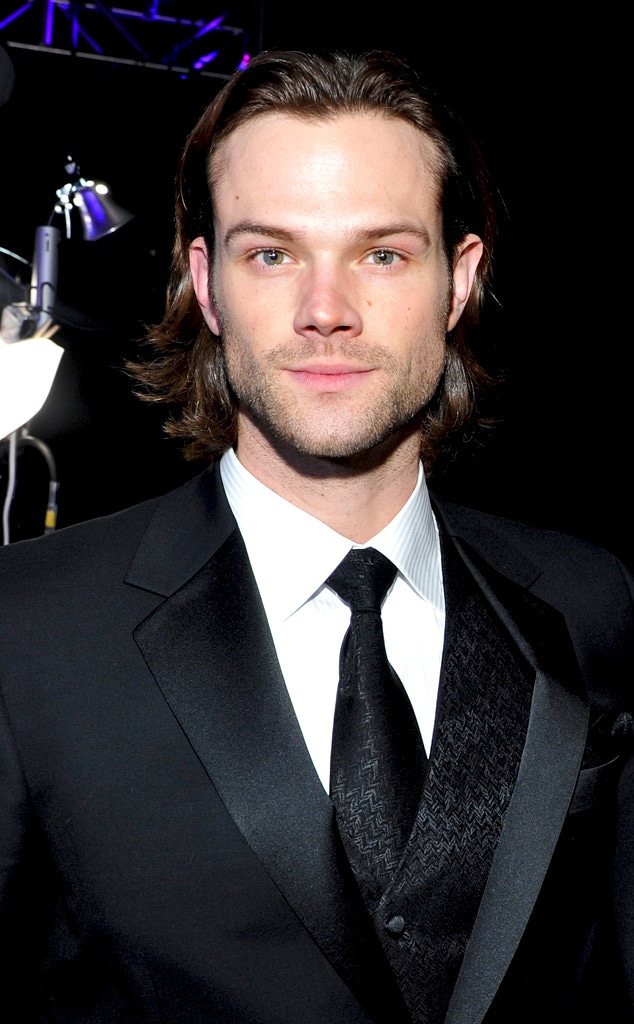 John Sciulli/Getty Images
Jared Padalecki wants you to know that you are not alone.
Whatever you may be struggling with, whether it's mental health issues, or any other hardship in your life, the Supernatural star is doing everything he can to lend his support to anyone in need. After going public with his own battle with anxiety and depression, Padalecki recently launched a charity T-shirt campaign, Always Keep Fighting, to benefit nonprofit organization To Write Love on Her Arms, which supports people struggling with depression, addiction, self-injury and suicide.
His most recent T-shirt campaign (which surpassed his expectations on just the first day it launched!) ends in six days, and E! News spoke with the CW star about what he wants to see from Always Keep Fighting beyond the shirt sales, his own struggles with mental health and the inspiring actions he's taken to help others, and more.
Check out our full Q&A with Padalecki below now!
E! News: You've just started filming Supernatural again, and you're on season 11. How's that going so far?
Jared Padalecki: It's great! We're going on our 11th season. It's hard for me to grasp, but it's a third of my life and well over two-thirds of my adult life. It's wonderful to be a part of something bigger than myself. But right now, it definitely has that feeling of, "Aw, man, it's time to go back to school!" I've just been playing with my wife and kids for a couple months now, so it's time to pack up, ship out. Comic-Con was fantastically overwhelming, but overwhelming nonetheless, and then I launched this new charity T-shirt campaign. It's all good, it's all great stuff, but it's a lot. And I spent some time this summer learning to focus on the here and now and not get too stressed out. I struggle with anxiety and depression and part of that is I let myself get overwhelmed.
I was just this 17-year-old kid from San Antonio who went out to this big, scary Hollywood-land. The only way I really know how to deal with my anxiety was to just keep working and keep my head down. Just work, work, work. Read, study, go to class. Go to auditions, meet with agents. And finally it all caught up. And I've been really public about that experience. So now I've been really trying to focus lately on enjoying the here and now and it's nice. It's amazing.
There are six days left in your Always Keep Fighting shirt fundraising campaign, and you've already surpassed your initial goal of 1,000 shirts sold a while ago. You're at like 12,000 shirts sold now!
[Laughs.] Oh yeah. I think it was even in the first day! Which is just—it just goes to show you how many people out there deal with the same issues and are thirsty and hungry for some sort of venue or form with which to talk about it or express it. It's even more than just the amount of T-shirts sold, it's spreading the word. "Hey, we're not alone, guys! You're not alone, I'm not alone." Even I, in my position, I have to remind myself sometimes that I'm not alone. And this crazy business, it's ironic, but it can be such a lonely existence. You're around tons of people, cast members, crew members, fans and family and friends, but if you live in your head, it doesn't matter if you're surrounded by a million people. You can get overwhelmed. It just goes to show you with these Always Keep Fighting campaigns, we are not alone.
Have you come across anyone wearing the Always Keep Fighting shirt in your normal, day-to-day life?
Yeah, I have loved seeing people wear the shirts from the first two campaigns and even just meeting people and talking about it. I was going through an airport, and it was a TSA agent or a police officer or something, and she pulled me aside and she was like, "If I wasn't wearing my uniform, I'd be wearing my Always Keep Fighting shirt." And that is so cool! That's awesome. It's wonderful to hear people and talk to them about it. I'm not very good at living on the surface, I can't really shoot the s--t above the surface. So getting personal and talking about something that's important to me feels so much better to me than going, "Oh, crazy rain outside today. See you later!" And that's what life is about, helping others and allowing others to help you. And this has taken on a life of its own. Our goal was 1,000 and then our first campaign went to 20 or 30,000. The one Jensen [Ackles] and I did together went to like 50,000! We never thought that it would catch on like that. But that's the idea and that's the great thing about art in general, you put something out there and it just grows. I hope that everyone who takes part in the T-shirt campaign feels that, that they're a part of something bigger. I'm certainly not the lead of it even though it's my face on the shirt. I'm just a part of it too. I'm using the platform I have to help everyone realize they're not alone.
Has it ever felt weird to see people wearing a shirt with your face on it? I feel like if I ever saw someone wearing my face on their shirt...well, actually, I'm not really sure how I'd feel!
Truth be told and this might sound like a BS line or something, but I don't like seeing my face. I don't watch my TV show really. [Laughs.] I don't look at pictures of myself. I'm kind of sick of myself! When we very first were deciding about the first design, the company was like, "I understand you're hesitant to put your picture on it, but it helps people attach to something beyond just the words. They know you're their friend in all this." Certainly, there's always this initial reaction to seeing, "Oh my god, that's my face on a shirt!" [Laughs.] But if it helps people connect then I'm happy. I wish everyone could have their face on a shirt! I'd wear it.
Watching you go public with your personal struggles with anxiety and depression has been so inspiring, since it's opened up the floodgates for all of these fans to go public with their own struggles. It's amazing to see that since there has always been such a stigma attached to talking about mental health issues, and I feel like there's still a taboo attached to it.
Yeah, to a degree there is certainly a taboo attached to it still. There's still a large portion of the population who just want to say, "Buck up. Put on a happy face and everything goes away." For some people, that works. There are certainly some personality types out there who can have a tough day and just brush it aside and carry on. For those of us who aren't so blessed, the message "Always Keep Fighting" is for us. I try to remember to remain empathetic to those who are not extending the same back to me. Whatever their struggles may be, people may be putting on this tough exterior because they don't yet have the courage or the acceptance to say, "I've been there too. I've danced with these issues also, or my friend did, or my father did." Generation by generation, we're slowly stripping away that taboo, that strange dynamic of, "Oh, there must be a problem with you if you feel this way." I'm happy to be a part of that, whatever part I may play.
Did you face any challenges or backlash by revealing your own experience with depression and anxiety?
I have had so much outrageous support, more support than I would have ever even expected. But there have been a few nameless, faceless people online who will say, "Why don't you go cry into your money," or something like that. [Laughs.] Just mean stuff. But that's part of this, to borrow your word again, this taboo. People think, "Well, if you're rich, then you won't ever have anxiety or depression. If you have your own TV show, then everything goes away." But it's simply not the case. And that's where I go back to trying to remain empathetic to those who might not currently be empathetic. And you know, I'm sure I did stuff as a kid that would mortify me if I knew about it now. When you're kids, or seven or 12 years old, and you have a computer and Internet and a platform, you think you're brave or courageous to make fun of a famous person, not realizing they're people too. And then you grow up, and you're like, "What was I thinking? I didn't even mean that!" I try to remember that and be patient. Everyone is going through their own battle and I try to remind myself of that when I feel judged or insulted. And I'm on a TV show, so it's not like I'm not used to being judged or criticized or critiqued. It comes with the territory. But if I can somehow turn that on its side and turn that into a positive thing for those who have felt abused or made fun of and don't have the outlets and friendships or support that I have then this is my way of saying, "I have your back." Maybe I've never met you in person, but I'm there with you in my heart, you know?
As you're nearing the end of the T-shirt campaign, what are your plans going forward? Are you going to launch another campaign or a different project?
No specific project, but Jensen and I started this foundation. We're slowly going to start auctioning off signed scripts and stuff like that, and all the money is going to go to causes that we're passionate about. A vast majority of them are going to deal with mental health and stigmatization and anxiety. I've worked a lot with To Write Love On Her Arms but there are so many wonderful causes out there, and so many I haven't even heard of yet. For years to come, we'll try and take a very active part of different charities in different ways to help people get the help they need. But for right now, I don't have anything else specifically in mind.
Have any other celebrities approached you since you've opened up about your experience who want to go public themselves, or want to team up with you for a charitable campaign in the future?
Actually, specifically three have. But I'm not going to out them yet—or, well, not "out" them, that's the wrong word—but I know they would like to do it on their own. I ran into some celebrity friends at Comic-Con and also via Twitter who mentioned that they've gone through similar things and they couldn't believe I did too, and they'd like to do something in the future. Having been there myself, I'm going to let them approach it the way they need to. But yes, I've been amazed by the outreach among other celebrities.
What has surprised you the most about how fans have reacted to your Always Keep Fighting campaign?
I think far and above, fans have chosen to—and I don't want to say it's surprising—but no matter who you are or what position you're in, you're always afraid of not being understood or accepted, or you're afraid of getting chastised or singled out. Part of me thought, "Here I am, I play this hero on TV, and I admit that I've had my own struggles, are they going to shoo me away as if I've been faking this whole time?" But they embraced me back 100 fold. So I don't want to say I'm surprised, but I'm definitely very grateful.
If you can accomplish just one thing with your campaign, what would you want that to be?
I would like for the Always Keep Fighting campaign and other campaigns like it to go on long after I leave this world. Hopefully it's something that someone who's just 10 or five years old right now, they're starting to feel different anxieties and feelings, to find it and then maybe they tell their friends about it when they're 20, and then their kids find out, and so on. I'd like it carry on and to help de-stigmatize mental health long after I'm gone. 
If you or someone you know needs help, please call the National Suicide Prevention Lifeline at 1-800-273-TALK (8255).
Flashback to Supernatural's season finale! Check out Padalecki had to say about the "extreme" episode:
Watch:
"Supernatural" Finale Goes to the Extreme