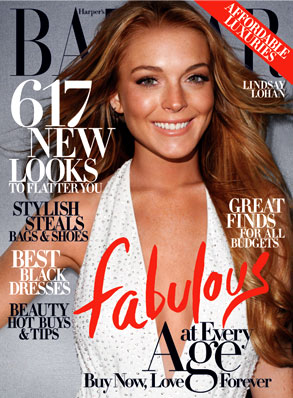 Harper's Bazaar
Lindsay Lohan is on the cover of December's Harper's Bazaar looking hot and coherent, without a pair of leggings in sight.
It gets even better inside. The article aims to get to the bottom of LiLo's sexuality. When asked if she'd classify herself as a lesbian, Linds flat-out says no. So does that make her bisexual then? "Maybe. Yeah."
While Linds doesn't name check Samantha Ronson specifically, she does say, "I think it's pretty obvious who I'm seeing...She's a wonderful person and I love her very much."
The rest of the interview is about her turning into a grown-up (getting effed up is way less fun than watching Gossip Girl now) and trying to make her career happen again (like should her album be more Adele or Lady Gaga?). And there's even some sisterly advice for Ali: