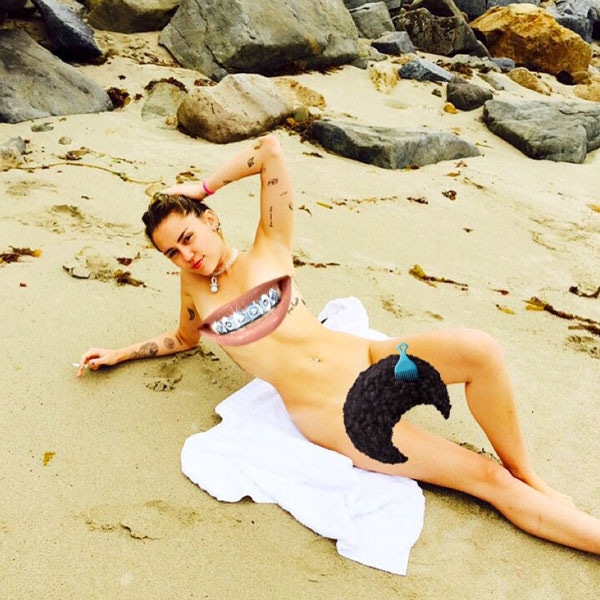 Instagram
Another day, another naked Miley Cyrus photo. The most surprising part? This one's safe for Instagram! 
The 22-year-old pop star, who is no stranger to posing nude and is apparently a big fan of her birthday suit, took to the photo-sharing site on Wednesday to share a handful of naked pics which feature strategically placed stickers on her lady parts in order to abide by the Instagram's guidelines. 
Cyrus seemed to be enjoying a day at the beach with bestie Katy Weaver, but in typical Miley fashion, their outing was anything but dull.
"stay fun or be lame #turntmermaid," the newly announced VMA host captioned a naked pic of herself lying on the beach with what appears to be a marijuana joint in her right hand.  
"the norm at 10 30 am lol," she wrote of another shot in which she's topless hanging outside of a car. 
But of course, her naked Instagram wouldn't be complete without some LED pasties! "put sum LEDz on dem t-tz," she captioned a second topless shot in which she's also flaunting her abs. 
Prior to her impromptu photoshoot, the former Disney star posted about hanging out with close friend Cody Simpson, who recently split from model Gigi Hadid after about two years of dating. 
"The man @codysimpson," she wrote of a sweet shot in which she's cozying up to the Aussie singer. 
While the two seem to be just friends, the "Adore You" crooner has apparently been supporting Simpson since his break up (Hadid is now dating Joe Jonas). 
"It is kind of [annoying], because on a daily basis, I don't hang out with celebs," Simpson told E! News following speculation that he was dating Selena Gomez. "All my close friends are normal dudes and then I will hang out with some girl who is a musician and everyone thinks that's what it's all about. Again, I like to be friends with everyone."