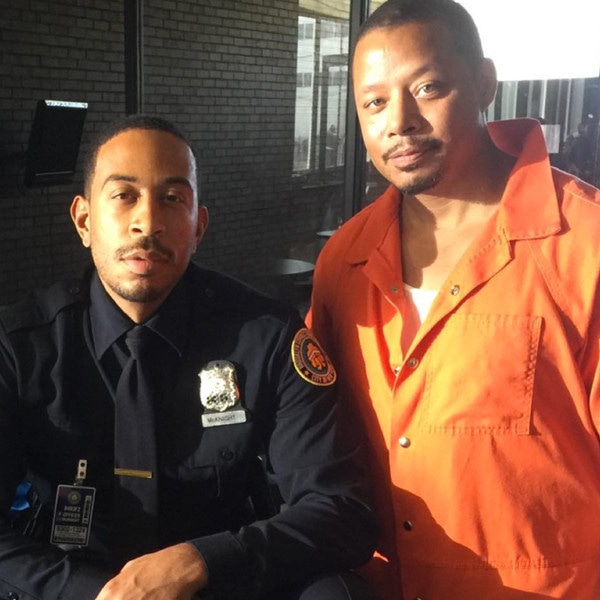 Instagram
Ludacris is just the latest famous face to join Empire season two. The musician turned actor took to Instagram to announce his involvement with the new Fox series.
"This could get interesting.....#empireseason2," he shared.
From the looks of his photo with star Terrence Howard he's going to play a prison guard. Or maybe he's undercover for Lucious Lyon? The possibilities are endless. Does this mean Chris Rock has a scene with the Furious 7 star now? These are the questions.
Ludacris is just one of many famous faces popping up in season two. We have yet to confirm whether Lee Daniels has nabbed Oprah Winfrey and Common for roles despite all the public discussion, but here's what we do know about the stars coming by:
Marisa Tomei—The Oscar-winning star of My Cousin Vinny will play a billionaire venture capitalist who gets involved with the company because why not. She loves fashion, hip hop, money and ladies. Please, Empire writers, give us many scenes between Cookie (Taraji P. Henson) and Tomei's Mimi Whiteman. Pleasssseeeee?!?!
Kelly Rowland—The singer will play Lucious' mom…in a flashback.
Chris Rock—The comic was seen in Instagram posts by co-creator Daniels in a prison orange jumpsuit alongside Howard.
Alicia Keys—She will appear…in some capacity. No word on character details yet.
Lenny Kravitz—Ditto, no word on whether he's playing himself or a new character.
Adam Rodriguez—This Magic Mike hunk will play a love interest for Cookie. No word on whether he will be dancing. But he should be dancing.
Tyra Ferrell—The White Men Can't Jump star is set to play a lawyer on the second season of Empire, according to Deadline.
Andre Royo—The Wire star is playing Thirsty Rawlings, a lawyer with a shady past who starts working with Lucious, according to TVLine.
More will be announce, obviously. It is Empire. Last season featured appearnaces by Jennifer Hudson, Rita Ora, Snoop Doog, Gladys Knight, Pattie LaBelle, Cuba Gooding Jr., Estelle and Raven-Symoné.
Empire returns Wednesday, Sept. 23 at 9 p.m. on Fox.