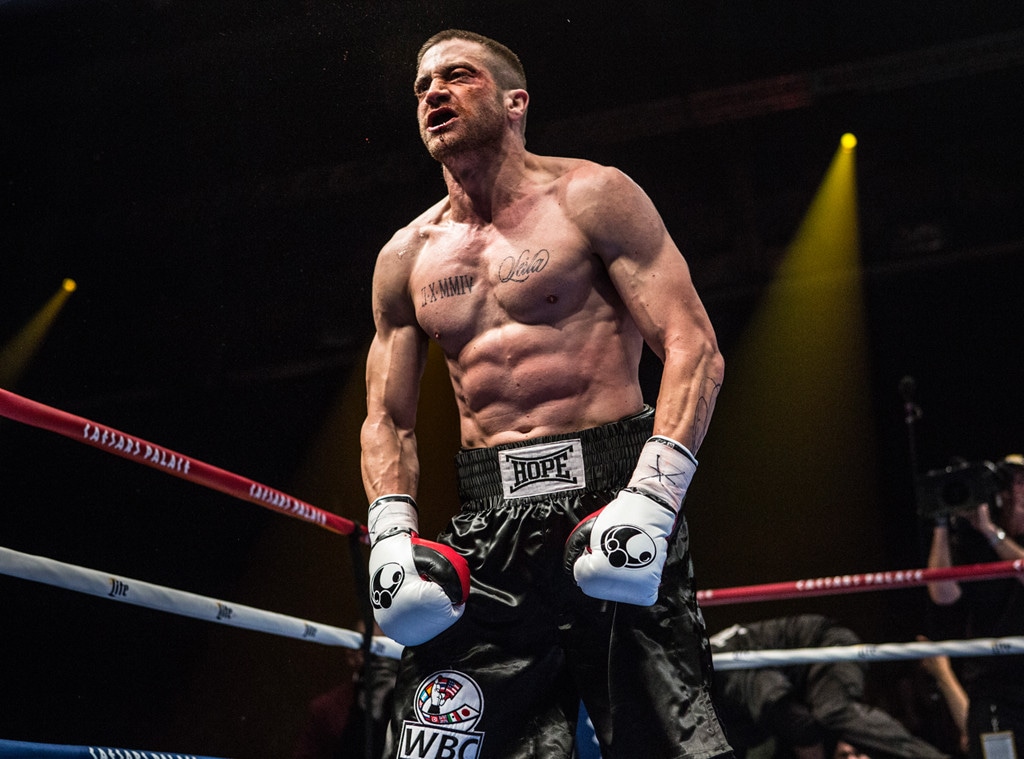 Weinstein Company
This Friday marks a monumental day for Jake Gyllenhaal. His new movie, Southpaw, hits theaters. 
On the surface that may seem completely ordinary—Jake Gyllenhaal is in tons of movies, and they're constantly having release dates. But this is different. In this movie, he is like a Jake Gyllenhaal we have never seen before. For starters, he is jacked. Straight. Up. Jacked. And second he plays a totally badass boxer; he gets in the ring and throws punches and gets hit and everything. But what are we talking about? You've obviously seen the trailer and stalked the set photos hundreds of times, because this new body of Jake Gyllenhaal's is one that's impossible to look away from.
But he wasn't this fine male specimen we know today. Remember when Jake Gyllenhaal was just that weird kid from that weird movie with that weird bunny costume? #Memories. Because we love a good coming-of-age tale, we decided to tell the story of Jake Gyllenhaal and the coming of his hotness. We looked back at all of his big roles to remember the journey he took (and by "he," we mean "his appearance.") Sit yourselves down, it's gonna be a bumpy ride—in a good way.
This is Jake's first major movie role (that we care about), and he is but 19 years of age. He's kind of too young to be a hot nerd, but he's also kind of a hot nerd nonetheless. Sure, he dresses like he works in a barn and his only friends are rockets, but man he loves those rockets. And isn't that what women want, a guy with hobbies? We're willing to look past that bad haircut and the even worse eyebrows to see the cute and goofy guy on the inside...who's soon going to be a super-rich man who sends things into space. Cha-ching!
Donnie Darko, 2001
What to say about Donnie Darko? Do you like your Jake Gyllenhaal super disturbed? If so, you've got a winner. Personally, creepy Jake isn't our fave. Can't he take off that sweatshirt hood once in awhile? But he has grown up since October Sky—he's murdering, after all. So that's something?
Bubbly Boy, 2001
Ummmm...not his hottest. Maybe it's the overalls, maybe it's the Hulk-style gloves, maybe it's the I-just-got-electrocuted hair, but this is a bit of a backwards slide. To be fair, though, Bubble Boy wasn't supposed to be about hotness. It was about...comedy, we suppose. So we'll just say, you've got a heck of a comedic timing, Jake Gyllenhaal.
The Day After Tomorrow, 2004
Look, Jake Gyllenhaal's gone from boy in a bubble to apocalyptic action star! Sure, there were some flicks in between these two, but yawn! This is the kind of Jake we want to see: running through epic floods, almost being frozen to death, living through the apocalypse. He is 24 years old and he is alive! And medium-hot.
Hotness solidified. No explanation needed. Next!
Jarhead, 2005
This is the first in a series we like to call Hot Soldier Jake Gyllenhaal. What's this movie about? Don't really remember. Does he look good with a crew cut? Absolutely.
Brothers, 2009
This we like to call Hot Soldier Brother: Double the Anger, Double the Hotness. Jake plays a bad guy turned less bad turned brother to a crazy guy. This time around Tobey Maguire gets to wear the crew cut, but Jake still amazing—especially when he's fixing up that kitchen. You work that nail gun, Jake.
Prince of Persia, 2010
Andrew Cooper, SMPSP/ Disney Enterprises, Inc
Literally what is this movie. Sure, Jake is jacked, but the long hair and knockoff Russell-Crowe-in-Gladiator costume is not working.
End of Watch, 2012
The crew cut is back, and this time it means business. Police business. We always love a Jake G. in uniform, although this movie was a bit of a downer. If you're re-watching, we suggest putting it on mute and just enjoying the way Jake handles a gun.
Prisoners, 2013
Jake is back to normal, hair- and body-wise, but he's awfully brooding. Maybe it's because he's working a devastating kidnapping case, but regardless could we get a smile once in awhile? All this Dark Jake is weighing on us.
Nightcrawler, 2014
JK! Nightcrawler was a blast and a half compared to this. We've gotta say, we don't love crazy (or crazy-skinny) Jake Gyll. This movie gave us all the nightmares, and not the sexual kind we enjoy.
Southpaw, 2015
Hot tamale! After months of six-hour workouts and 15 pounds of muscle, here we are today. And what a wonderful place it is. We don't normally go for the boxer type, but who can resist Crewcut: Chapter 3? No one.