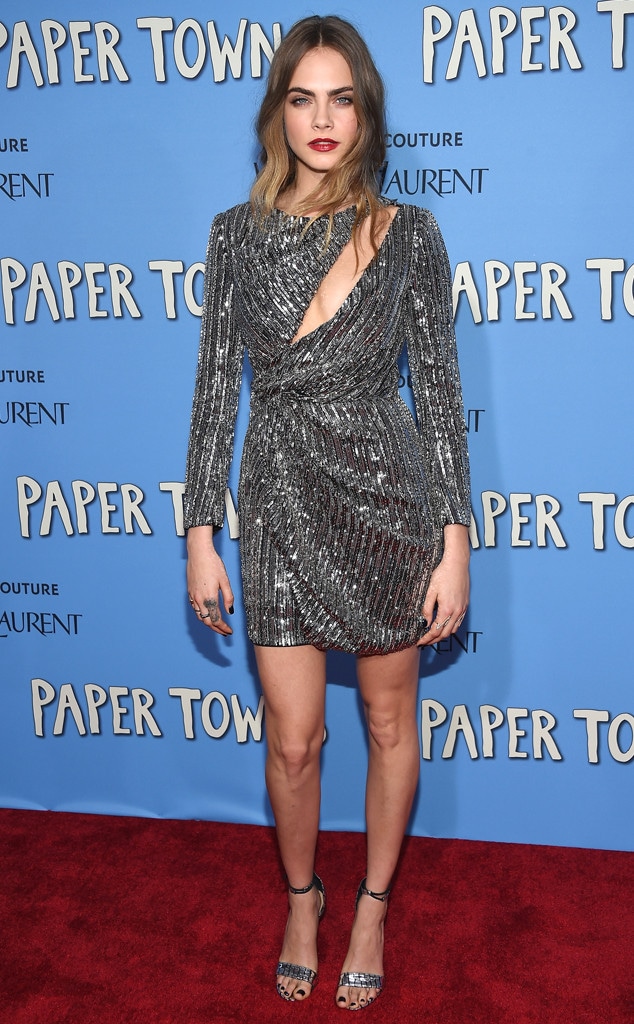 Dimitrios Kambouris/Getty Images
St. Vincent wasn't going to miss Cara Delevingne's big moment!
The singer-songwriter joined her girlfriend at the NYC premiere of Cara's biggest movie to date, Paper Towns, based on the adored YA novel by John Green, who also wrote The Fault in Our Stars.
But while St. Vincent was on hand for moral support, she classily let her main squeeze enjoy the spotlight—and Cara looked every inch the Vogue-covering supermodel that she is, positively stunning in Alejandra G. shoes and a strategically draped, beaded Saint Laurent minidress that showed off her long legs and a cheeky slash of décolletage.
Dimitrios Kambouris/Getty Images
Cara's sister Poppy Delevingne was also in the proverbial cheering section at the AMC Loews Lincoln Square theater.
The show of togetherness, meanwhile, comes after a report of a split made the rounds, though St. Vincent pretty much put that story to bed last night when she shared a pic of an incredibly thoughtful gift (truly, it's a bit of a mind-blower) she had received from her significant other.
"An Airline Twin Tone guitar signed by David Bowie. Thank you, @caradelevingne. Best gift ever in the entire world. (Heart emoji...)" St Vincent, whose real name is Annie Clark, captioned a photo of her new white guitar sporting an autograph from the Starman himself.
Delevingne just spoke publicly about her relationship for the first time in the July 2015 issue of Vogue—and she couldn't have sounded happier. Even she seemed to be surprised!
"I think that being in love with my girlfriend is a big part of why I'm feeling so happy with who I am these days," the British beauty said. "And for those words to come out of my mouth is actually a miracle."