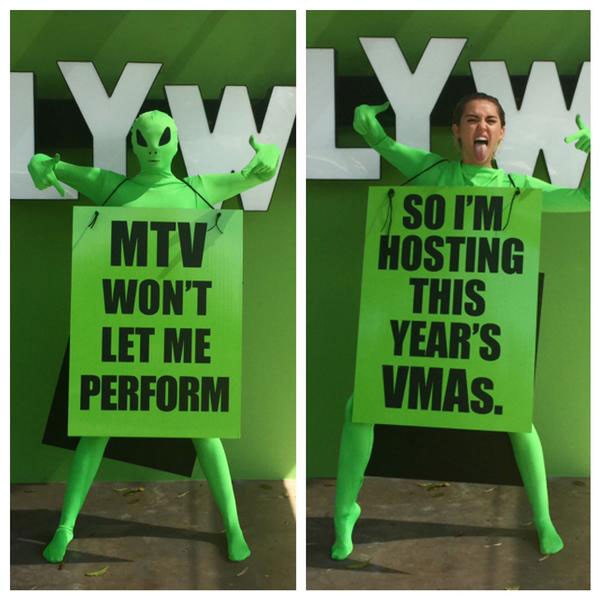 Twitter
We don't know much about this year's MTV Video Music Awards, but what we do know suggests it's going to be one show you don't wanna miss.
Miley Cyrus took to social media today to make one very exciting announcement—she's hosting! Yep, your twerking queen is taking the stage and running the show (so we can only imagine what's in store!).
The singer posted a split photo on Twitter of herself, with one photo showing her disguised in an alien costume with a sandwich board that read, "MTV won't let me perform," and another pic of her revealing herself with the caption, "So I'm hosting this year's VMAs!"
(Miley is, of course, referring to her infamous and unforgettable performance a few years back with Robin Thicke.)
She added, "F--k yeah VMAs!!!!! #VMAs on @MTV Aug 30 at 9pm."
So now, we just have to question what we'll be experiencing with MC as the, well, emcee. Will there be holography with huge cat heads? Will there be racy dancing that causes another uproar? Will there be special guests? A mini performance? More smoking on stage?!
The possibilities are truly endless, which is what makes this news so exciting!
Meanwhile, it looks like Miley is currently focusing on staying zen ahead of her big duties.
The former Disney darling posted a snapshot on Instagram that caught our eye, and for once, it wasn't because it was so controversial that we couldn't help but acknowledge it. Cyrus was snapped by none other than Stella Maxwell practicing one of the more popular-on-Instagram yoga poses: a headstand.
But the caption is really the kicker: "Life is about balance. #party #yoga #veggies #partyharder #moreyoga #moreveggies," the 22-year-old wrote.
Let's see what kind of balance we get on August 30!