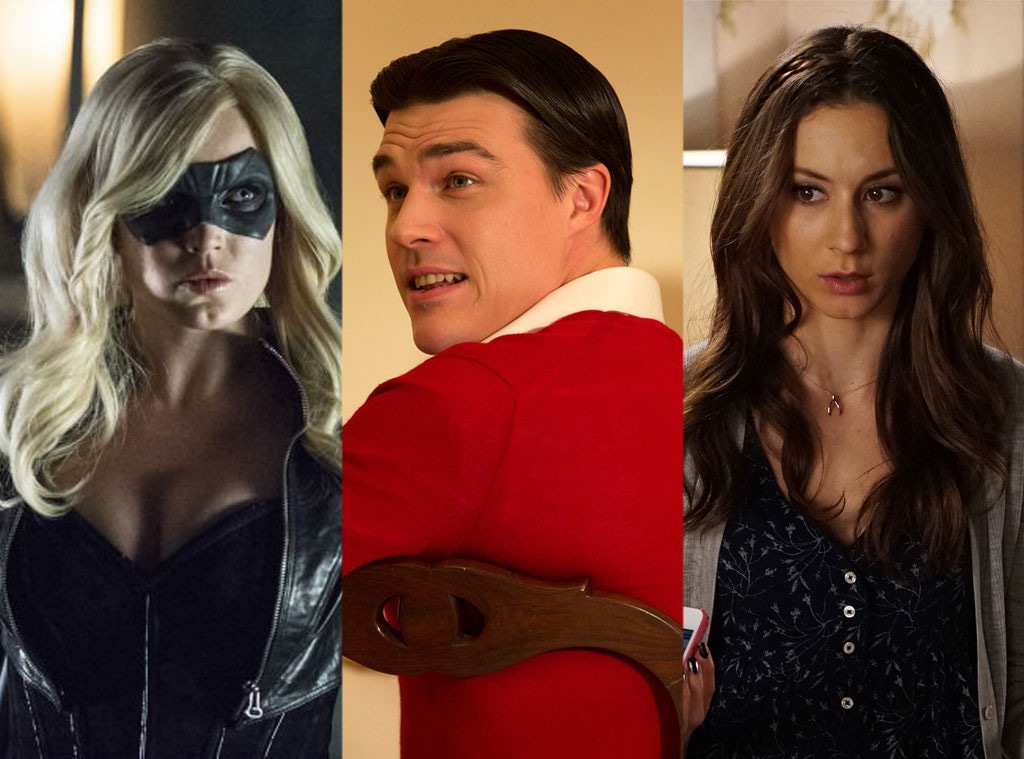 ABC, CW, FOX
It. Is. So. Hot.
Seriously, is it just us or is it hotter than ever out there right now? Fortunately, we have the perfect excuse for you to use so you can avoid going out in this heat: TV spoilers!
That's right, we've rounded up a whole bunch of scoop on some of your favorite series, including Pretty Little Liars, American Horror Story: Hotel and Arrow, as well as Transparent, The Mindy Project and more. So what are you waiting for? Crank up the A.C. and cool off with this refreshing batch of scoop...
Veronica: Got any details on what we can expect from Pretty Little Liars post-time jump? 
Expect to see a politician's daughter, the smart and sleek Yvonne, recur throughout the second half of the season, after the highly anticipated five-year time jump, who will cause some major drama for one of the Liars. 
Beth: Please tell me the White Canary will be on Arrow this season!
Your wish, our command because we have it on good authority that Sara's resurrection will begin on Arrow before Legends of Tomorrow kicks off.  "The White Canary will be launched in the first few episodes of Arrow," boss Marc Guggenheim spills. "4x08, our typical crossover episode, will be doing a lot of heavy-lifting in terms of getting the Legends of Tomorrow characters set up and also seeing where they are with relation to The Flash. It's a big episode." Huzzah!
Andi: The summer is winding down and we still don't have that many details about American Horror Story: Hotel. I know you're holding back on me. TELL ME THINGS!
We are your spoiler bloodhounds, keeping our noses to the ground for scoop. So when we got Finn Wittrock on the phone to talk about Emmys, we pried the fellow for all the scoop we could. Here's what we can tell you: he can't reveal his name, despite what his costars said at Comic-Con. "Did Gaga tell hers?" he asked us. "No. I guess not. "I should probably stay quiet about it." So is he bad or good? "There's not a whole lot of good guys, I won't say—I don't think I'm quite as malevolent as Dandy, but I'm definitely not a good guy."
Cody M.: Any other major superheroes or comic characters we can expect to see in DC's Legends of Tomorrow? 
Well, Ciara Renee already managed to get some juicy scoop out of her boss Phil Klemmer about Hawkgirl and Hawkman's time-travel woes, but we do have some more insight into Hawkman (real name Carter Hall), who has yet to be cast for the series. Charismatic and strong-willed, Carter is a natural-born leader with a lot of confidence, too bad he's destined to be reborn over and over, just like his "doomed lover," being chased by Vandal Savage throughout time. 
Lynsey: So excited for Joseph Gordon-Levitt on The Mindy Project! What else is coming up in season four? #PraiseHulu
First of all, loving that hashtag. But down to business: Better run out and get Mindy a gift sooner rather than later because it sounds like she'll be giving birth pretty early in the season. Anyone else so excited to see their little one?!
Kelsie: iZombie was the best new show last season! Do you have any info? 
You know that drug Utopium, that zombifying shiz? Expect to see a lot more of it as more than one of our main characters will take it early on in season two. Hey, if you can't beat them...
Elena: What is going on with the CSI series finale movie? No George Eads and no Elisabeth Shue? Who's in this special?
Remember Lindsey, Catherine Willows' daughter? Well, she's now in her early 20s and a CSI in training and she's very eager to help with the big case. 
Linda: I am so excited about all the Emmy love Transparent got! What's ahead in season two?
You know you're going to meet Maura's younger sister and there's a new character, Sal, coming into play. Sal's a "would-be mobster" who has very strong opinions about women. He's fresh out of prison and comes with some sexiness and an aspect of danger. As for who he's dealing with, well, our lips are sealed.
Lisa: Got anything on Supernatural season 11? #SPNFamily
Are you worried about Crowley's fate after his mother put a spell on Castiel to turn him into a rabid dog and set him loose on the King of Hell? So is Crowley himself! "I'm dead. Deader than dead," Mark Sheppard told us at Comic-Con when we asked about his fate going into season 11. When we pushed him to elaborate—because there's no way Supernatural would kill off 25% of its cast just like that!—he laughed. And smiled. And refused to say anything more. Um, consider us extremely worried now! 
Melissa: I need some Shameless scoop in my life!
Sounds like we're finally going to meet Sammi's mother! The show is currently looking to cast the recurring role of "Queen," a woman in her late forties to early fifties, described as an earthy, sensual, flouncy, flamboyant, sexy and joyous woman whose "brief encounter" with Frank on top of a washing machine when they were sixteen (and high on 'shrooms) produced Sammi. Queen is a force of nature, "never really believed in contraception," loves to be naked and makes her real living off of a massive pot growing operation.
Spoiler Chat is new every Tuesday at noon ET/9 am PT on E! Online. BOOKMARK THIS PAGE so you can always find it!
Follow Kristin Dos Santos on Twitter, Facebook and Instagram and send in your questions there! (I read every single one!)