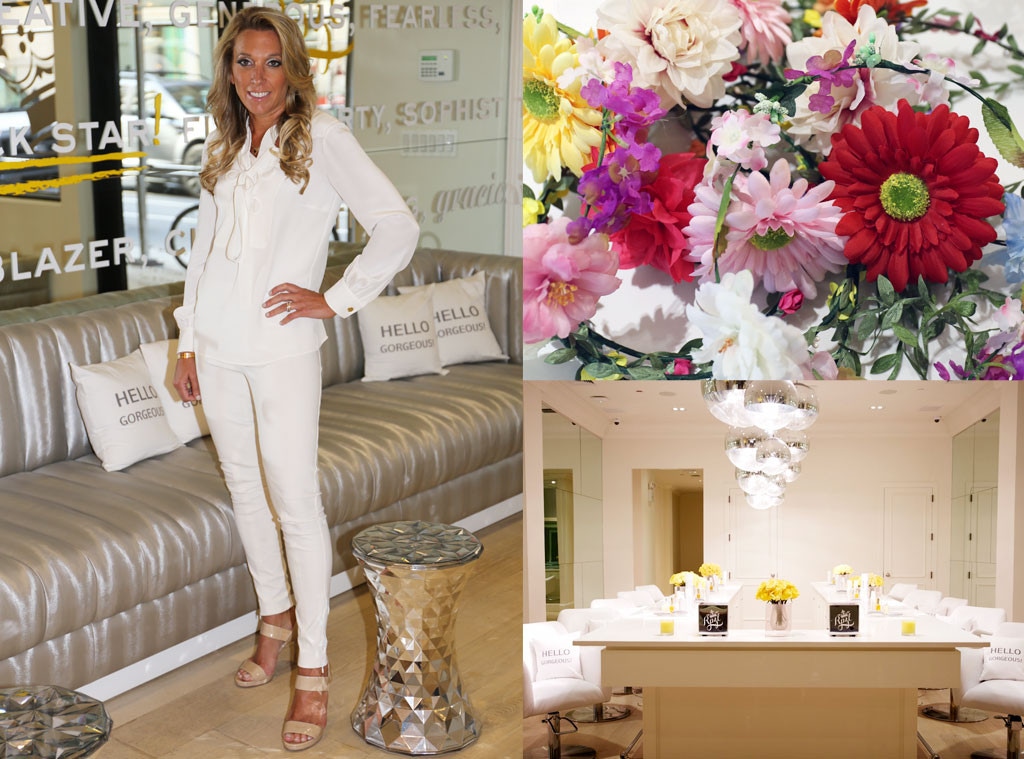 Jennifer Cooper, E! Entertainment
If you've ever worn extensions, then you know what a headache the process can be. But now, RPZL is stepping up to facilitate the process.
As New York City's premiere extensions (and blowout!) bar, this revolutionary hair salon provides customers with a one-stop shop for all things extensions. It's easy. It's efficient. And it's guaranteed to boost your locks from blah to brilliant.  
We caught up with RPZL's co-founder and managing partner, Lisa Richards, on everything from her hairstyle of choice to leaving behind the corporate world to launch her own startup. Ready? Read on to hear from this trendsetter herself! 
Jennifer Cooper, E! Entertainment
What was your first job? 
I sold hair accessories (ummm….new career spoiler alert) in Port Jefferson (in Long Island, N.Y), for multiple summers growing up. Our parents had us working from a very young age. We were expected to support ourselves as soon as we graduated from college, so I started saving young because I knew the only place I wanted to live was New York City  
How did you get started in your career?
I started at iN Demand (a TV network that provides pay per view and SVOD services), before moving to both Starz Encore Group and, later, World Wrestling Entertainment. In all, I spent 15 years managing both distribution and marketing for both the U.S and international markets, before joining my first start-up company, You On Demand. The latter experience—creating what is now a leading video on-demand service provider in China and delivering Hollywood movies to mobile and TV screens—motivated me to launch RPZL. From personally bringing a dream on paper to fruition, culminating in You On Demand's Nasdaq listing, I fell in love with the entrepreneurial life, and its dramatic highs, lows and frantic pace. 
What is a typical day like for you? 
Unpredictable. In the startup world, you are either waking up (much earlier than you'd like to) to run a marathon or fight a round with Mike Tyson. You just never know what the day will bring.  And the best part is that you don't get paid, and still love every minute of it.
Tell us about your office décor. When did you last give your office a makeover?
It's white and grey with a pop of silver (and some sparkle too), and I'd best describe it as simple, clean and open with a minimalist look. It's gorgeous! Of course, I take no credit for that as one of my best friends is Andrew Petronio of KA Design, who is the best designer in the world. All I did was tell him the inspiration and get out of his way.
What's the best part about your job?
Helping thousands of girls (and some boys too) look and feel gorgeous! Our gorgeous girls walk out of RPZL taller, they negotiate tougher and can blind opponents with a toss of their perfectly coiffed hair.
What's the one item in your closet that you could never go without?
Cartier love bracelets. I have one for each of my loves!
What's the most daring career risk you've ever taken?
Leaving the corporate world and working for a U.S. company that was doing business in China. My office was a plane for three years! 
What inspired you to launch RPZL?  
Monica Thornton (my co-founder) came up with the hair extension bar concept and was looking for someone to launch it with who could complement her management and operational skills by leading the fundraising, branding, marketing and PR efforts. I was excited by her vision of how to save time and money on world-class hair extensions, and wanted to share it with the world and, of course, have gorgeous hair at the same time.
What's the biggest misconception about women using extensions? 
That it's only for celebrities. Not anymore! 
What's your go-to hairstyle?
I love a good pony!  I wear one running, to a meeting or even to a big event. I love our RPZL Pony clip-ins. I am wearing my Buckaroo Butterscotch today!  
Jennifer Cooper, E! Entertainment
Who are some of your career heroes?
Steve Jobs and Sheldon Adelson (the CEO of Las Vegas Sands Corp.) for their visionary ability to create new markets by identifying unmet demands. What's impressive about Adelson and his creation of the Cotai Strip in Macau was his unwavering confidence despite a disastrous start (due to a worldwide recession). He lost more money in one year than any human being in history, and then got it all back and more the next by continuing to believe in himself and his original vision.
What is the best piece of advice you've ever received?
It came from my dad. I wanted to become a cheerleader when I was five and he said, "you don't cheer for others, they cheer for you!," and made me play competitive sports since then. That stuck with me, and is probably why I've always wanted to be part of the highly competitive entrepreneurial world. 
Finish the sentences below:
Today for lunch I had… lunch is for wimps.
My favorite lipstick shade is… Sara Happ Lip Slip Gloss for day and Sisley Phyto Nude Lip Gloss for night.
The first website I log onto every day is……Rpzl.com to book a blowout! It is my favorite part of the day, as it allows me to catch up on e-mails, put on my make-up and have gorgeous hair in less than 40 minutes!
My usual Starbucks order is… I have never had one cup of coffee
If I wasn't doing this job, I would… Have the worse hair and be miserable
My favorite place to visit is… New York City. That's why I live here.
List five things that are on your desk right now… Smart water, a Black Moleskin calendar (will never switch over to the iCalendar!), sunglasses, iPhone and a photo of my double dose of gorgeous girls.
The book I'm reading right now is…The Goldfinch.  I'm so busy, but I love it and I'll get through the whole thing once we've up-listed to Nasdaq!  Doesn't RPZL make the perfect ticker symbol?
Watch:
How to Get Sienna Miller's Dutch Braids