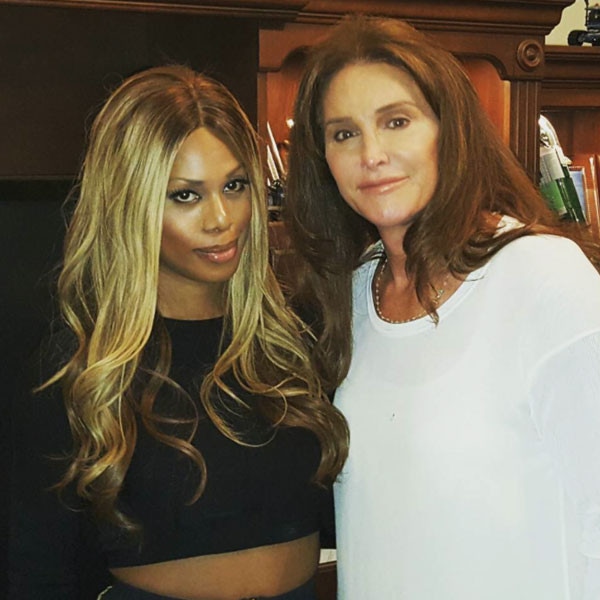 Instagram
After months of contacting each other via phone, Twitter and other methods, Laverne Cox and Caitlyn Jenner have finally met in real life!
The Orange Is the New Black star and Jenner got together with a large group of women for a private screening of the 65-year-old's upcoming docu-series, I Am Cait. Cox shared pics of the intimate viewing on Instagram, captioning a group shot, "Fun with #girlslikeus tonight at the screening of #IAmCait @tracelysette @candiscayne @smartassjen @zackarydrucker #MimiMarks #TransIsBeautiful."
Cox, wearing a fierce black crop top and skirt, also shared a photo of just her posing with Jenner, who looked casual chic in jeans and a white blouse.
"@caitlynjenner and I finally met in person at a special private advance screening of #IAmCait. #TransIsBeautiful #girlslikeus #caitlynjenner," she captioned the pic.
Both Cox and Jenner have voiced their desires to actually meet each other in person, so we're so glad to see they were able to make it happen! The 31-year-old actress previously told E! News that Jenner had consulted her prior to announcing her transition and added that she couldn't have been more proud of her.
"I was deeply moved by About Bruce and Caitlyn's family's very really struggle with this change and the deep love and devotion that they have for Caitlyn was deeply moving," she said. "I cried many, many times watching it."
(With the release of her Vanity Fair cover, Jenner has chosen to identify publicly as a woman and E! News will refer to her using female pronouns. In stories published before this date, she was referred to as Bruce Jenner and male pronouns were used.)
After Jenner's magazine article was released, Cox blogged about her on her Tumblr page, praising her for her courage.
"Yes, Caitlyn looks amazing and is beautiful but what I think is most beautiful about her is her heart and soul, the ways she has allowed the world into her vulnerabilities," the actress wrote. "The love and devotion she has for her family and that they have for her. Her courage to move past denial into her truth so publicly. These things are beyond beautiful to me."
Tune in to the premiere of I Am Cait Sunday, July 26, at 8 p.m., only on E!