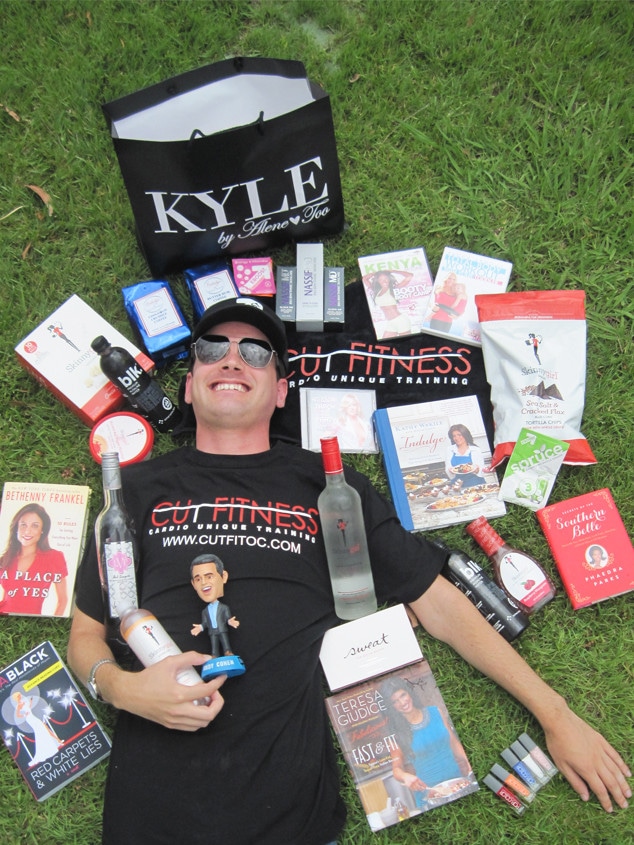 E! Entertainment
Money can't buy you class, but it sure can buy you a lot of Real Housewives products.
If you're one of the millions of viewers who tune into the Bravo franchise week after week, chances are you've witnessed plenty of catfights, OMG moments and some serious product placement. Anyone else spy a kitchen full of Skinnygirl Margaritas as the Real Housewives of New York relaxed in the Turks and Caicos?
It seriously got me thinking: How much could a viewer accomplish in 24 hours using items strictly created or developed from a Real Housewife? As I quickly discovered, you can whoop it up all day long.
While I couldn't include everyone and everything—Sorry Lisa Rinna, but a dude can't exactly wear anything from your QVC line. And my apologizes Ramona Singer, but I sadly ran out of time to experience Turtle Time with your Pinot Grigio—many castmembers delivered with their food, beauty items and so much more.
So sit back and watch what happens when the housewives take over my life…literally.
Morning
Rise and shine Bravoholics, because it's time to break a sweat! After pouring Josh Taekman's EBOOST natural energy powder into my CUT Fitness water bottle from Tamra Judge, my morning routine began with some exercise. And what better person to accompany me than the one and only Kenya Moore?!
I tried her "fat-blasting" Booty Boot Camp and I got so pooped I couldn't even finish all three 20-minute workouts. Luckily, Peggy Tanous' Total Body Workout was more up my speed. And no, you don't need a toddler around to feel the burn.
After a quick shower, it was time to beautify myself in a way that didn't require Botox. Luckily, Dr. Paul Nassif's skincare line that includes an exfoliating cleanser was the perfect replacement.
Finally, I enjoyed Bethenny Frankel's daily nutrition bars accompanied with a cup of Kathy Wakile's Chocolate Raspberry coffee. Trust, that delicious flavor is strong just like any Jersey family bond.
Afternoon
Because I'm a proud member of the night crew at E! Online, I get to accomplish plenty of things on my to-do list earlier in the day. And by things, I totally mean shopping at Kyle Richards' store titled Kyle by Alene Too in Beverly Hills.
I couldn't shop too long, however, because summer days in Southern California call for pool time. Everybody knows that as you soak up the sun, you have to have sunscreen, sunglasses, a good book and music. Luckily, Meghan Edmonds, Cynthia Bailey, Phaedra Parks and Kim Zolciak delivered in their respective areas.
And for those wondering, yes, a man can use Meghan's Sweat Cosmetics as a sunscreen. After all, MLB stud Jim Edmonds has used (and approved) it.
Before heading off to work, I tried to prove to myself that I could cook something in the kitchen. With help from Teresa Giudice's cookbook, I whipped up Italian Chicken Stir-Fry that Joe Giudice makes "all the time."
Complete with utensils, plates, and table décor from the Vanderpump Beverly Hills Collection by Pop Culture, my kitchen suddenly turned into a glamorous, chic and dare I say classy room. I could get used to this life.
Evening
Halfway through the workday only means one thing: It's snack time! Luckily Frankel's Skinnygirl popcorn, chips and hummus satisfied my taste buds. And yes, Chris Laurita's Blackwater helped me wash it all down.
And no, your eyes aren't playing tricks on you. That was a Vanderpump bowl filled with nine lemons. I'm just trying to live that Shannon Beador life with all of her positive tricks. For the record, I didn't have typos in my stories that night. Coincidence? I think not!
As I completed my shift, it was time for an evening out with the co-workers at Vanderpump's West Hollywood restaurant titled Pump.
The Bravo star's pink and red sangria—served on ice—was delicious and the perfect addition to our orders that ranged from crispy calamari, grilled skirt steaks and chocolate ganache cake for dessert. We even spotted Ken Todd and singer Cassie inside the hot spot during our meal.
While some viewers may be quick to poke fun at these reality stars' business ventures, many of these Bravolebrities are making big bucks and succeeding with their respective products. And while we can easily resist many of the items, I pass along this small but significant life lesson.
Life isn't all diamonds and rosé. But when you use Real Housewives items, it certainly can be!
(E! and Bravo are part of the NBCUniversal family)