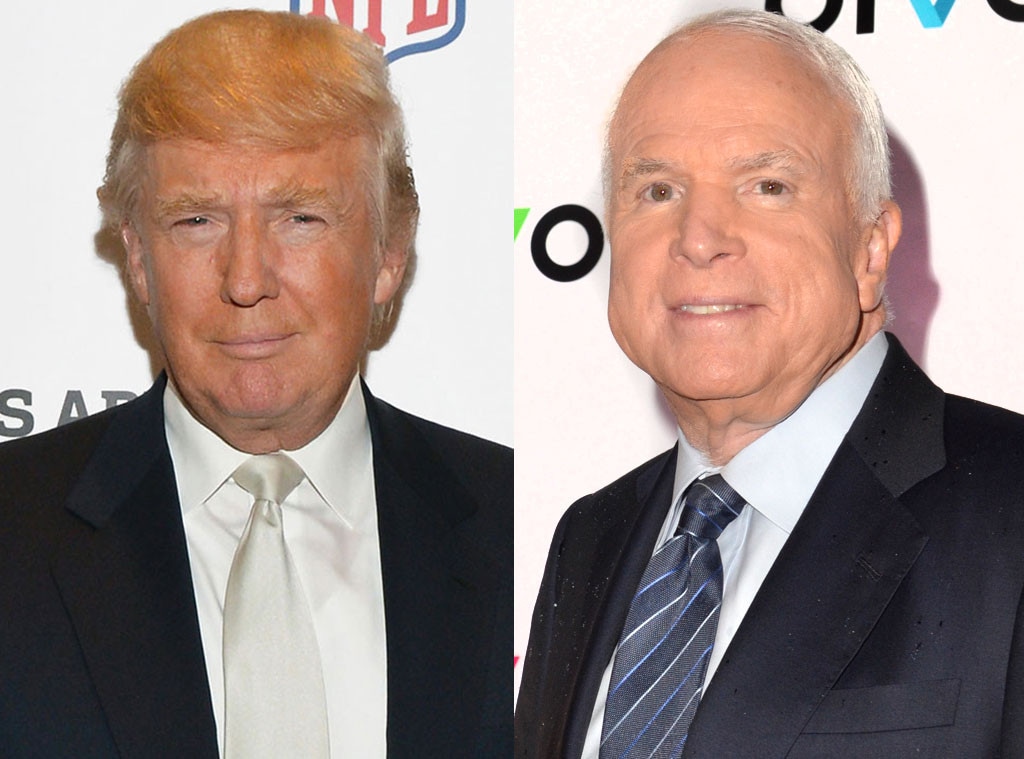 Getty Images
You can't accuse Donald Trump of failing to unite the Republican party. Unite the party against him, that is.
The outspoken presidential candidate, who hasn't yet met a target he didn't want to take a shot at, has incurred the wrath of fellow Republicans (and many more) once again with comments he made at the Family Leadership Summit in Iowa.
"He's not a war hero," Trump said about Sen. John McCain, who famously spent five and a half years in a POW camp during the Vietnam War after being shot down in enemy territory.
"He's a war hero because he was captured," the real estate tycoon added. "I like people who weren't captured."
[Crickets.]
His fellow GOP presidential candidates and many more, including McCain's blogger daughter Meghan McCain, immediately piled on in defense of the senator's honor.
"I can't believe what I am reading this morning. Horrified. Disgusted. There are no words," Meghan tweeted. "I have a brother that just returned from Afghanistan a month ago, glad he can come home to this being said about his father and his service."
"After Donald Trump spends six years in a POW camp, he can weigh in on John McCain's service," tweeted Louisiana Gov. Bobby Jindal, who is also seeking the Republican nomination in 2016.

Fellow candidate Jeb Bush also weighed in, tweeting, "Enough with the slanderous attacks. @SenJohnMcCain and all our veterans - particularly POWs have earned our respect and admiration."
And support for McCain has continued to rain down from the Twitterverse, with the consensus among his fellow nominees seeming to be that Trump is unfit to run for president. Read the epic tweets:
Trump's campaign, meanwhile, released a statement clarifying his remarks: He has great respect for American veterans, he's just "not a fan" of McCain.
"He is yet another all talk, no action politician who spends too much time on television and not enough time doing his job and helping the Vets," Trump said. "He is also allowing our military to decrease substantially in size and strength, something which should never be allowed to happen.
"Furthermore, he was extremely disrespectful to the thousands upon thousands of people, many of whom happen to be his constituents, that came to listen to me speak about illegal immigration in Phoenix last week by calling them 'crazies.'"
"It's very bad," McCain told The New Yorker this past week about the rally Trump held in Phoenix, during which he appeared alongside the father of a man who was killed by an undocumented immigrant. "This performance with our friend out in Phoenix is very hurtful to me. Because what he did was he fired up the crazies."