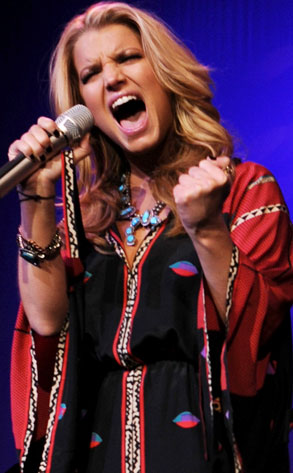 Denise Truscello/Getty Images
Do celebrities ever visit their fansites?
—Laura from Argentina
If you're wondering whether Jessica Simpson does—and you know you cannot live one more second without knowing—the answer is yes. She does follow the scuttlebutt on her fansites, particularly SweetKisses.net, where she's even been known to—yes—post stuff.
But most stars, at least the big ones, don't pay attention unless something alarming happens. Like when a fan posts an unflattering photo.
Which rising TV star nixed some pics she didn't like when she saw them on a fansite? Well ...
That would be Starbuck. You know. Katee Sackhoff, from Battlestar Galactica. She didn't like the results of a magazine photo shoot she did several years ago. When she saw the shots on the fansite kateesackhoff-fans.com, she asked the administrator to remove them. According to a subsequent post on the site, the site complied.
"Celebrities don't really pay that much attention until something really serious pops up, like when the Harry Potter fan site Harry Potter Lexicon was going to publish a book," says Jordan McAuley, author of Contact Any Celebrity.
Bam Margera has checked into the fansite BamFan.com and later confirmed that to site founder Josh Carrico. (Margera's wife has even been known to jump on the chat boards.) Some actors, like Heroes newcomer Brea Grant, learn what people are saying on fansites through an intermediary but participate directly on their own official pages.
As for me, I do check my own Facebook page, which sort of counts. I'll even answer questions that you post there. Big of me, right?

Got a question about Hollywood? ASK IT: answerbitch@eonline.com
Oh, and subscribe to my free podcast, 'kay?