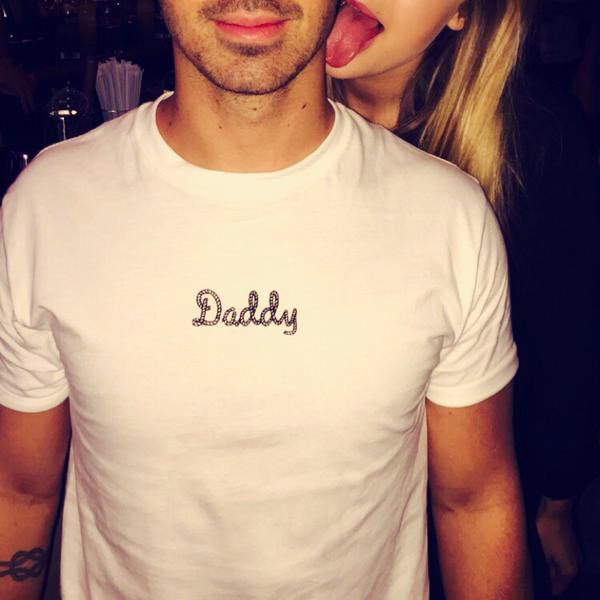 Instagram
Joe Jonas loves his adorable niece Alena Rose, but is Gigi Hadid's man really ready for kids of his own?
The 25-year-old singer sent fans into quite the tizzy Thursday when posted an Instagram photo of himself in a "Daddy" T-Shirt, captioning the image, "Call me..." There's a blond female in the pic, too—Gigi, presumably—who comes pretty darn close to licking the former Jonas Brother's neck.
Are these two trying to tell us something? Yes, that Joe likes this particular shirt. (Really, though, a source tells E! News this was "just a fun shirt.")
Watch:
Nick Jonas Spills Deets on Joe Jonas and Gigi Hadid
He tagged DAD Collections, a newly launched fashion label, inspired by—you guessed it—fathers! The label reposted the pic of Joe in "The Daddy," tagging Avo Yermagyan, a fashion stylist who's been known to work with Joe and his brothers.
Speaking of which, Nick Jonas recently chatted with E! News about "GI Joe" (Gigi and Joe's celebrity couple name, of course). "I like them together. It's a good thing," he said. "Joe and I are best friends. We're each other's support system and closest friends, so naturally I'm gonna see a lot of her because they're together and it's great. I'm really happy for them. I think they seem very happy together and it's good."
With a little prompting, Nick even agreed that Joe and Gigi, 22, would make really cute babies together. "If it happens," he said, "and in good time!"
Joe's bro's looking out—leave those daddy duties to Kevin Jonas for now!