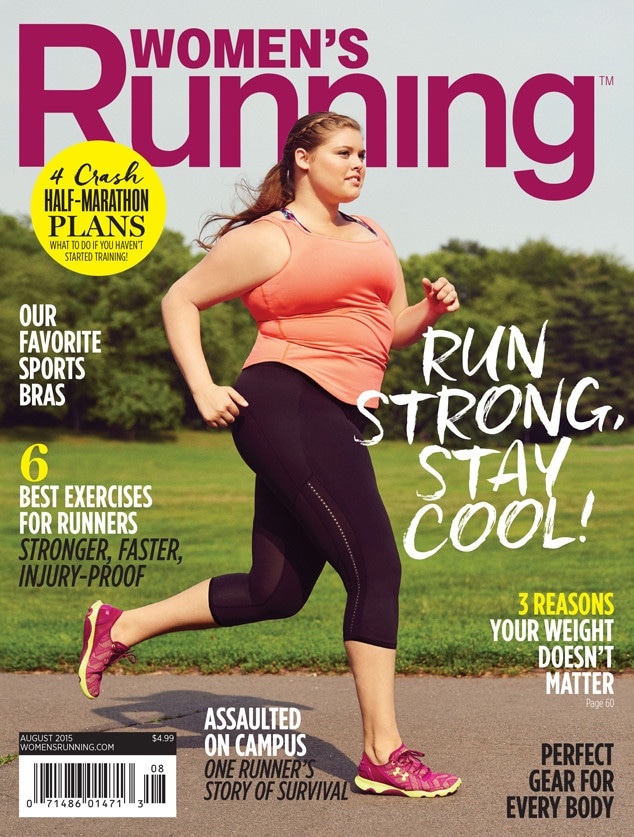 James Farrell
Another month, another fitness magazine with a teeny-tiny model or actress on the cover.
But not this time. For its August issue, Women's Running went with a model whose curves prove that a runner's body comes in all shapes and sizes. And no one was more surprised than the cover girl herself to see it!
Meet Erica Jean Schenk, the 18-year-old, size-18 stunner whose groundbreaking cover is making headlines.
"I had no idea I was going to be on the cover! I was told afterwards [after her photo shoot] that I would be on the cover," Erica told E! News in an email interview. "I was initially stunned. I thought it would be a big deal but it turned out to be a MUCH bigger deal than I thought it would be!"
"I love how the image shows a thick-thighed woman who is proud of her body," she added. "I'm not wearing loose-fitting clothes, to say the least. At first it made me a bit uncomfortable but then I had to realize I can't help other women accept who they are without doing the same for myself."
Erica, who is signed to Wilhelmina Models, is welcoming all the attention in hopes that she can help make a difference. 
When asked about the cover, which just so happens to be her first, she added with excitement, "I'm over the moon that all these people see me and can relate. I hope I make an impact in women's body acceptance."
"I''ve had so much positive feedback. I can feel the masses begging for more. They want to be able to relate to the struggles, success, and celebration of people just like them," she said.
And with the rise of stars who promote positive body image and plus-sized models snagging pictorials in popular magazines (like her role model Robyn Lawley), Erica's cover couldn't have come at a more perfect time.
"Many companies are making money off women's insecurities," she told us. "With diets, workouts, pills, surgeries, and everything else we forget to love ourselves and our so called flaws. Real change takes generations. I am so proud that I am here not only to witness but to help with the effort towards body acceptance."
So, how does this increasingly busy gal maintain a healthy lifestyle?
Not only does she run once a week but she also enjoys sweating it out in group exercises classes and taking her workout outdoors.
"I'm originally from California. My favorite workouts are barefoot running on the beach, swimming, or sand volleyball. I also love to hike. Whenever I would visit my Aunt Kristy we would always take these glorious hikes in Malibu Canyon," she revealed.
As for food, "Anything that grows, goes," she quipped. "Nuts 'n' seeds, fruits 'n' veggies! I admit I'm a sucker for chocolate and cheese but there's time for work and play." 

The brunette beauty also shared her thoughts on how social media, especially Instagram, has helped change the way we view body image.
"To be on Instagram all you need is an electronic device. To get followers all you need is to be engaging. Now you don't need to be a size 2 and 6 ft tall to have people notice you. World fashion icons no longer need to be on magazines. They come in all types and platforms. To reach people you can be a blogger, a vlogger, insta famous, or the editor and chief of Vogue," she explained.