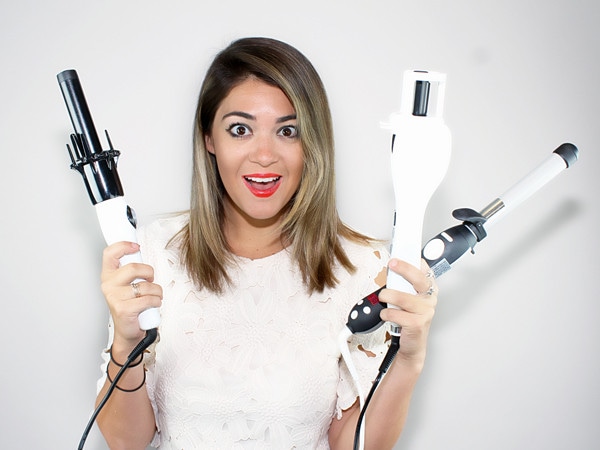 Kailey Strachan for E!
My name is Jenna, and I'm a hair-curling failure.
I've tried to get help—from curling irons and wands to the all-in-one blow-drying brush and sponge curlers. But every time I think I've hit a hair high, I end up with weird kinks or burnt fingers. It's not just that I have silky, super-straight hair, but I'm directionally challenged when it comes to the motions: Do I twist the wand away or toward my hair? How long do I hold hair in the clamp? These are all questions my college education failed to explain.
I was unprepared for the world obsessed with Blake Lively-worthy waves…until, that is, I caught an infomercial for an automatic rotating iron—because, yes, my pup, Louie-Pierre, and I love watching infomercials. It opened on a model with hair in a tangled mess, stuck between a clamp and a hard place (I feel you, girl!). Then with one fluid motion, courtesy of some genius mechanism, came perfectly bouncy curls.
Has technology answered my prayers? Having hit hair rock bottom, I tried three automatic curling irons—with fear of burn, hair loss and tangled strands—so you don't have to. 
KISS InstaWave Automatic Curler, $59.99
Rating: 6/10
Once I figured it out, the curl wasn't horrible but it wasn't great either.
Once you get over the fact that the curler resembles a 19th century torture device, it does an adequate job. You place the end of your hair at the base of the spindle, and slowly start the curler up with the hope that the outside prongs pick up the rest of the sectioned off hair. Problem is, sometimes this didn't happen, and I was stuck watching my hair go 'round and 'round in circles—awesome for NASCAR racing but not creating curls.
I would have preferred the addition of a clamp feature to confirm that my hair would be held in one place, but after a few practice rounds I finally got it down. Hold the barrel parallel to your hair, take about a one-inch section and watch the magic unfold. The curls themselves come out kind of weak, but if you're looking for a subtle look, this one definitely got the job done.
Sarah Potempa Beachwaver S1, $129
Rating: 10/10
It's sleek. It's simple. It's effective. I'm sold.
I may have found the holy grail of automatic curling irons. At first, you don't even realize that this tool rotates—it just looks like a high-end ceramic curling iron. There is a small clamp to hold at the end of your hair sections and—bonus—right and left directional buttons! No need to rotate those wrists anymore. Seriously, this one was made for the Idiot's Guide to Curling Your Hair. To ensure the curls would last, I rotated the barrel right to left for five seconds. It heated up to 300 degrees in under a minute, which made the entire process fast. It also was the only device that allowed me to make my sections of hair as big as I wanted to for the ultimate beach wave.
InStyler Tulip Auto Curler, $14.99
Rating: 4/10
God speed.
This is by far the most intimidating contraption out of the group and, in all honestly, my least favorite. There are too many steps for a lackluster outcome. For example, it comes with a piece of cardboard that you are supposed to section off your hair with before the curling process. Should you add more hair than this cardboard cut-out allows, your hair will get sucked up into the tube…never to return. Luckily, this part was not pictured, but it did happen.
The most difficult part of the process is getting your hair to fit within the eye of the device, which holds the hair so it can curl. Once I had some friends help me out, I made it work. Without the helping hands, however, my hair would still be burning in my bathroom. But hey, guys, it's buy one, get one free!