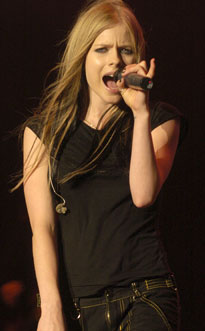 Kevin Mazur/WireImage.com
The Best Damn Tour? Fans are going to have reserve judgment.
In news that will undoubtedly hearten Hilary Duff, rival Avril Lavigne has been rendered speechless after coming down with acute laryngitis. The illness has forced the Canadian punky popster to scrap six additional shows on her North American tour, bringing the grand total of nixed dates to eight.

"My sincerest apologies to all of my fans," she said in a statement Saturday night. "My intention was to complete the rest of the tour, but tonight at sound check in Anaheim I realized this wasn't possible. Even though I have been resting my voice for days, when I tried to sing nothing came out."
Refunds will be available on Monday for the six concerts—in addition to Anaheim and Sunday's gig in Los Angeles, Lavigne will skip dates in Santa Barbara and San Jose, Calif., and Spokane and Eureka, Wash. She had previously canceled shows last week in San Diego and Phoenix.