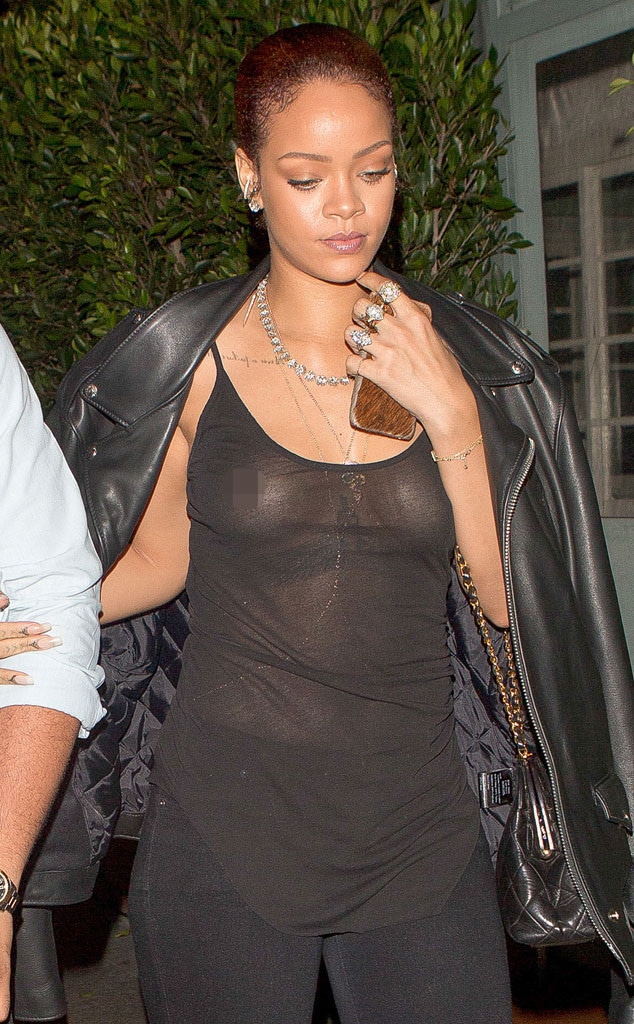 AKM-GSI
Braless and flawless!
Rihanna's made no secret to the fact that she is not down with bras—underwire, strapless, push-up, sports or any other kind for that matter—and she's taking matters to new, creative lengths in an effort to avoid wearing undergarments.
And while we sit here slightly envious of the pop star's ability to confidently rock couture with her breasts (almost, if not entirely) exposed, her latest sartorial antics are straddling the line between sexy and ridiculous.
Sure, she's has been living up to her bad gal name lately with a series of late-night sightings wearing nothing but jeans and a tee—oh, we failed to mention, a completely see-through tee—but we let that stuff slide because, well, she's Rihanna.
Sharpshooter Images/Splash News
Whether she's flaunting her nipple piercings behind what may possibly be the thinnest piece of cotton the world has ever seen, or killing it (literally) in her "Bitch Better Have My Money" music video wearing nothing but blood and Benjamins, or wearing nothing but a sheath made entirely of sequins at the CFDA Awards, Rihanna definitely isn't afraid to let everyone in on what she's working with.
And this is the part in our story where we have to mention, because haters will surely come at us thinking otherwise, but we are here for it and not complaining whatsoever about RiRi's tatas making their way around town. Free the nipple! Burn the bra! Damn the man! You get it…
The 27-year-old singer has even gone so far as to share her bra-centric rule of thumb in a recent interview with Vogue, saying, "If I'm wearing a top, I don't wear a bra. If I'm wearing a bra, I just wear a bra."
Fair enough, girl. Why double up when the whole world is watching, right?
But, just like us, even the Bajan beauty has those days where covering up seems more appealing.
However, unlike us, a bra still doesn't seem to make its way into the Grammy winner's wardrobe—or so it seems.
Joe Schildhorn /BFAnyc/Sipa USA
Let's take a good gander at the latest pics, from just a few days back, of Rihanna hanging out with pals after a long day and night in the studio.
First up, there's her "Tie It Up" lewk, which is basically just an oversized sweatshirt wrapped around her body in an effort to hide any signs of chestage whatsoever.
A for effort, but we're hoping this insecure-sophomore-esque outfit doesn't become a trend anytime soon.
And then there's quite possibly her simplest bra-replacement strategy to date: the "Look Ma, No Hands!" ensemble.
Earlier this week, RiRi was seen walking around the streets of the Big Apple cupping her breasts because A) She's feeling herself B) Other people can carry her s--t for her or C) She wasn't into her manicure at that very moment. Whichever option is A-OK with us.
And we saved the best for last, you guys. Rihanna's most fabulous, high-fashion solution to solving her bra-hating ways. In a word? Hermes.
That's right, our girl posted an up-close-and-personal selfie of her tanning wearing nothing but shades and an Hermes scarf wrapped around her lady lumps.
"Bra by Hermes," she casually wrote as the caption before hashtagging, "Pool time."
We're not worthy!
Dimitrios Kambouris/Getty Images
Watch:
Rihanna Rocks "Blingy" Island Style