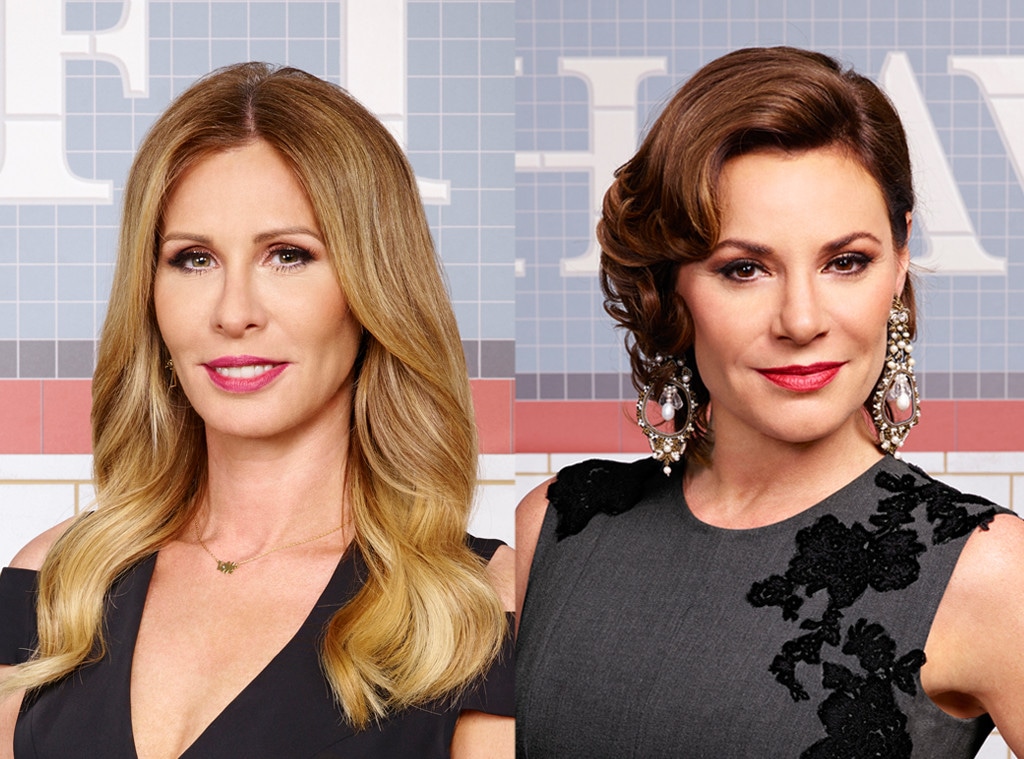 Mathieu Young/Bravo
The Real Housewives of New York City's Turks and Caicos trip exploded at the very end thanks to some naked mystery men spotted by Heather Thomson who were brought home by Countess Luann de Lesseps and Ramona Singer. This was an issue that could've been resolved on the spot, but has spiraled into a whole to-do, as issues tend to do on Real Housewives. Luann even has a song about what she perceived happened when Heather and Carole Radziwill confronted her about the naked stranger.
"Luann was very uncool," Carole told E! News at the Lelo Pop-Up at Pleasure Chest in New York City. "There was a lot of unnecessary screaming over something that…Heather and I felt, you can do whatever you want and we're cool with it, but don't leave your naked guys in our rooms. And she got so offended that we were kind of pissed off about it, it was bizarre. But only in Luann fashion can she do that."
The ladies eventually learned the naked man was Ramona's guest and Luann had seen hers out—and Luann's was married, according to their vacation house manager. Luann shrugged off that news, but viewers will recall she has been upset with Carole because Carole is dating Adam Kenworthy, an ex-boyfriend of Luann's niece.
"Look, I don't care. She can go out and party, she can go play around with married men and good for her, but then don't judge us and don't say we're uncool. Because we're just minding our own business and doing our own thing. They went out partying, they got drunk and brought home men – which is all cool, we've seen it all before – but don't leave them in the house. We also didn't think it was cool that the guy was married. I'm not passing judgment, but I don't roll that way. She was being very cavalier about it: You do you, I'll do me. At the end of the day, I'm happy with my decisions," Carole said.
"If there's one person who doesn't live by the girl code, it's Luann. If the girl code is banging married men, if the girl code is trashing your friends on social media, if the girl code means age-shaming your friends, then sure, she lives by the girl code," she added.
The drama continues at the recently taped reunion.
"I think she felt very defensive. There was a lot going on that she had to account for. You know how reunions are. [Andy Cohen] holds your feet to the fire and he wants answers," Carole dished. "She was as defensive as I've ever seen her.  At one point she got up and lunged at me. She got up and Andy told her to sit down."
That doesn't sound very countess-like!
The Real Housewives of New York City airs Tuesdays, 9 p.m. on Bravo.
—Reporting by Beth Sobol
(E! and Bravo are both part of the NBCUniversal family.)