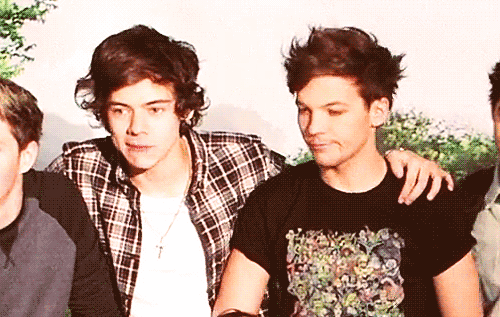 Larry is dead. Long live Larry.
One Direction fans were hit with a punch to the gut today when news broke that Louis Tomlinson is expecting a baby with Los Angeles stylist Briana Jungwirth. The duo, both 23, reportedly aren't a couple but are very excited to be parents.
You know who is the opposite of excited? Fans that shipped the hell out of Louis and band mate Harry Styles since basically the beginning of time. "Larry," they called the couple. Some people were convinced the two were actually a couple and that their girlfriends were all just ploys cooked up by management to hide their love from the media/real world. Others just loved how adorable Harry and Louis were together and merely hoped they would one day be a couple. Regardless of where you fell on the Larry shipping spectrum, today is a sad day.
Because how on earth will Larry lovers justify the fact that he's having a baby with a woman? LOL, just kidding, those shippers are finding plenty of ways to explain it. If they aren't mourning the death of Larry, they're just insisting this baby is either fake or Jungwirth is carrying the kid for Harry and Louis.
You know what? As long as your love for Harry and Louis burns strong in the depths of your heart, then can Larry ever truly die?
We say NAY!
But seriously, congrats Louis! You and Harry Briana will be wonderful parents.