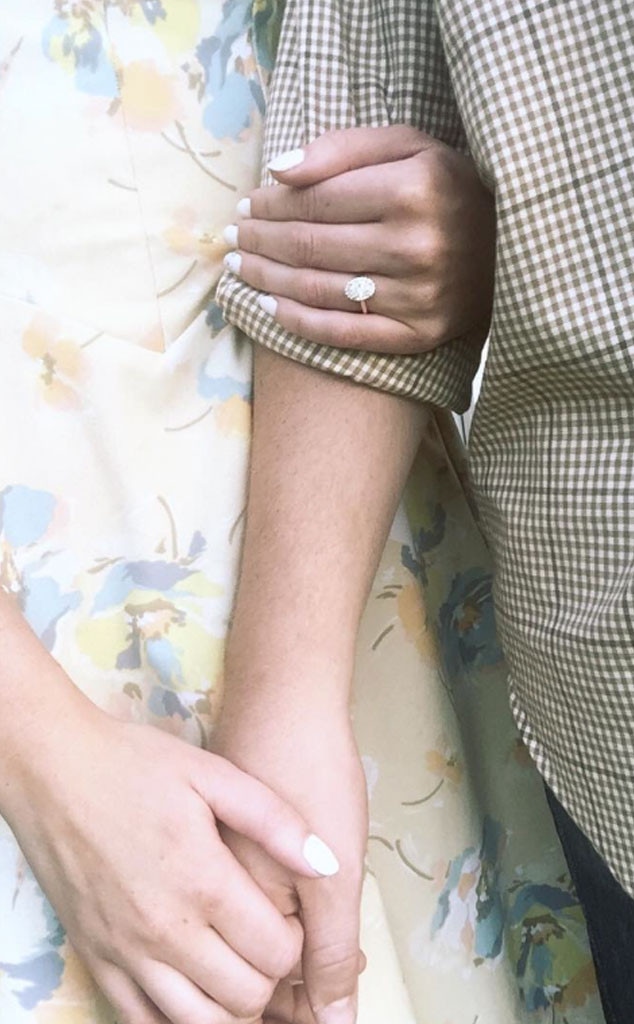 Instagram
Amy Duggar and Dillon King are going to tie the knot!
Amy, who is the niece of 19 Kids and Counting stars Jim Bob Duggar and Michelle Duggar, announced their big news with a photo of her holding hands with Dillon on Instagram, but there is a new accessory on her left hand: a sparkly, oval-shaped engagement ring.
"I'm so happy to announce ... WE ARE ENGAGED!!!! He loves the Lord, he makes me laugh uncontrollably, he's loyal, he's patient, he's my best friend! Of course I said yes!! l love you so much! @kingdillpickle #DillandDuggsforever," she captioned the pic.
Dillon also couldn't contain his excitement about the news, as he also posted on Instagram. He shared a collage of photos that included shots from his proposal. Following a candle-lit path in the forest, Amy and Dillon strolled until they reached a table with more candles, champagne, a framed photo of themselves and, of course, a box with the sparkler right in the center! So cute!
"Well everyone.... WE ARE ENGAGED!!!! @amyduggar I asked you to be my fiancee not just because I love you right now. I got down on one knee because you are the only woman I have and will truly love forever.!!! Xoxo," he captioned his photo.
The couple has been together for less than a year, but it was clear from the start that they were serious. Amy has shared multiple PDA pics of the couple kissing...on the lips! As fans know, her cousins go about courting in a completely different way. Per TLC, Duggar daughters aren't allowed to lock lips with their chosen man until the wedding day. In fact, Jim Bob's rules mandate that holding hands is only allowed if you're engaged.
But Amy, who also identifies as Christian, doesn't follow the same set of guidelines as her cousins. "I'm not going to change who I am to have a certain image," she said. "I'm the free spirit of the family. I'm not being rebellious; I love my family. I just have to be true to myself."
The Duggar family continues to grow, as Anna Duggar is expecting her fourth child and Jessa Duggar is expecting her first! Although Anna's baby-to-be is "late," the family is sure the little girl will arrive soon. 
Congratulations to the happy couple!
Watch:
Jill Duggar & Derick Dillard Prepping for First Baby!