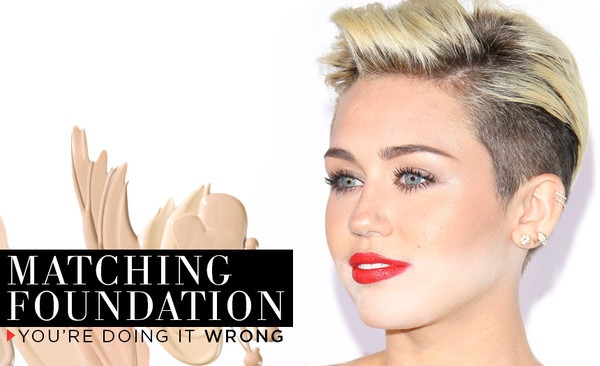 Very few things have the power to make us look and feel as ravishing as a fresh tan (thank you, summer!). As a result, however, we inadvertently put ourselves at a very real risk of mismatched foundation syndrome.
Makeup mishaps happen to the best of us, but it's easier than you think to avoid the slip-ups of Demi Lovato and Miley Cyrus. By employing these makeup artist pro tips—whether you are at your pastiest or sporting a newly minted golden tan—you can achieve perfect match foundation every time. If you're unsure of where to start or if you think that selecting a foundation is a job better left to the Sephora experts, you're not alone.
Luckily, we've consulted Ashley Rebecca, an E! Style Collective resident beauty pro, to uncomplicate the process once and for all. 
Pay special attention to your base color: According to Ashley, the biggest blunder people make when selecting their base is that they will "try to match it to the color of their hands instead of their face." Another big no-no? "They will also go darker, thinking it adds color to their skin when really, it can just end up looking muddy."
Test out a few shades: Ashley emphasizes that the secret to finding your perfect color is to try on a few hues and compare. Start by eyeballing two to three shades within your skin tone family, and test on your jawline (not your hand). When you find a swatch that naturally disappears and blends into your skin tone, you've done it—you've met your match!
Make adjustments for your summer tan: In the summer, your skin color is likely to change. The good news is that you don't have to buy a new foundation all together. To adjust coverage for your summer tan, "simply use a liquid bronzer and mix it in with your makeup to change the shade." Ashley always uses Giorgio Armani Fluid Sheer #3 for this trick, and it works every time.
Blend, blend, blend: Application is important because "if you don't apply it right, it won't look flawless." Firstly, you have to use the right tools (Ashley likes the Beautyblender). The key is to start off using small amounts and build as you go.
Don't forget concealer: "Concealer should be two things: one shade lighter than your natural skin and not over-done," Ashley said. It's also important to remember that concealer is a post-foundation step, not a before. For a little that goes a long way, try Ashley's holy grail, Nars Radiant Creamy Concealer.
Make it last: To make your look outlast your eight-hour workday, dust your face with a loose setting powder to lock in the makeup. Lastly, generously mist your face with Caudalíe Beauty Elixir throughout the day to hydrate and revive tired skin.