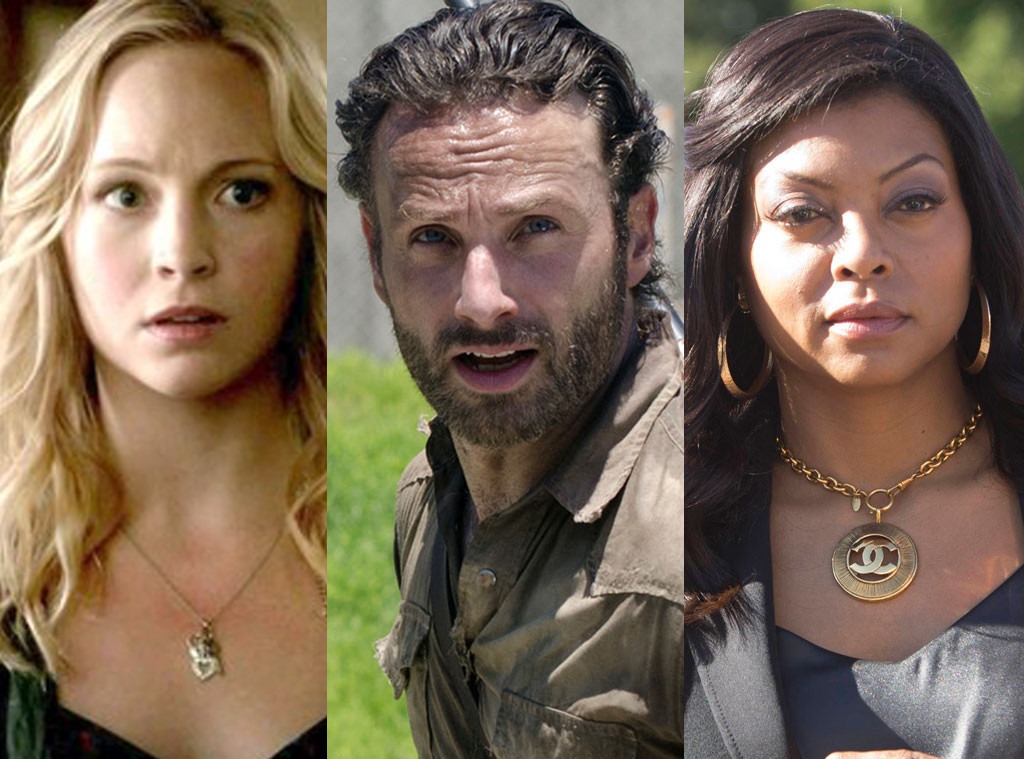 Two questions: How is it already the Tuesday after Comic-Con and how is it only the Tuesday after Comic-Con?! 
TV fans have had news coming out their ears for the past week, but we know that's not enough for you. You want more. You want all the TV news you can possibly get, and what kind of TV scoop-bringers would we be if we didn't bring you all the TV scoop we have to bring? 
Terrible ones, that's what. 
So hold onto your hats and read on for our latest round of exclusive TV spoilers! 
Dylan: What can we expect from next season of The Walking Dead? Desperate for any and every spoiler!
We'll let executive producer Gale Ann Hurd field this one!  "You've got Morgan showing up, that's going to chance the dynamic," she previews. "t's still dealing with the integration...can these two groups really find commonality and what happens when Morgan is thrown into the occasion, who has seemingly renounced violence except to protect himself?" Hm...anyone else not buying the whole "seemingly" part of that tease?!
Melissa: I wish I could have made it to Comic-Con—the TVD panel sounded amazing! Did you get any scoop there to share about next season?
In addition to the three roles executive producer Julie Plec revealed during the panel, here's two more new faces that will be joining the Mystic Falls gang in season seven in recurring roles. Oscar, an Asian male in his 30s, is described as a laid back stoner who's been living the high life off the grid for months…but his zen lifestyle comes to a screeching halt when a spell destroys his memories and turns him feral. And Julian, a male in his early 30s who speaks with an English or Old World accent, is a feared, storied immortal, regarded as pure charisma or pure creep, depending on whom you ask. The one thing he fears is anonymity, an unlikely outcome given that he's perpetually on the run, leaving chaos in his wake, and attracting even more dangerous followers. Sounds like a certain Original family member, no?
Jamie: The wait for more Empire is killing me! Give me something!
New love interest alert! Sparks will be flying for one of the Lyon brothers and an aspiring singer when the Fox hit returns. The lucky bro? Hakeem! Expect to see the youngest Lyon attempt to woo a seriously talented vocalist, Laura...both professionally and personally. But it won't be easy as she isn't exactly down with Hakeem's romantic intentions.
Mike N.: I'll take anything you've got on the new season of Arrow!
Prepare for the show's biggest big bad yet in Damien Dahrk, who will be played by new series regular Neal McDonough. "He's a very different kind villain. Malcom, Shae and Ra's, they were all guys who did the wrong thing for what they thought was the right reason," Marc Guggenheim teases. "Damien doesn't care about morality. We wanted a big bad who is really pure evil." Still, fans can expect to see him have "a sense of humor," enjoying the amount of power he wields. 
Julia: Murder me! And by "Murder me" I mean please give me How to Get Away With Murder scoop, obviously.
How about this: When How to Get Away With Murder returns there will be quite a few new faces! Audiences will meet not only new lawyers and judges, but also Caleb, Catherine and Helena Hapstall. Caleb is strong and soulful and Catherine is shy and sympathetic—she's anything but worldly. Meanwhile, Helena is from old money and very stuffy. Does Annalise Keating have some new clients?
Sara: Girl Meets World is my guilty pleasure, I cannot lie. So how about some scoop to reward me for my confession?
Hey, ain't no shame in your TV-watching game! Get ready for a major Maya storyline as we've learned the show will be introducing her much-discussed father in an upcoming episode. Roguish and goodlooking, Kermit is sure to stir up trouble for Shawn's new relationship with Maya's mom when he comes back into the picture. 
Jenna: This season of Teen Wolf is killer and I loved what preview they showed at Comic-Con! But I'm greedy, so is there anything new you can tell us?
Good thing Teen Wolf was renewed for a sixth season already because otherwise we may not have ever seen the gang graduate! "We won't get to graduation by the end of season five," boss Jeff Davis reveals. "We're a little like The Simpsons where Bart stays in fourth grade for 23 years!" But discussions about a post-high school TW have already started, as Davis says, "We've been tossing around ideas about that since there seems to be a fervor for more and more episodes all the time." 
Dani: Bummed Reign wasn't at SDCC. Do you have any spoilers to help ease the wait?
How about a new love interest? Constance, a beautiful and confident noble girl, will be coming to court and will catch the eye of one of the show's royal men. She's delightful, fun and breezy, but also challenging as she's aware of her power over men. So who's the guy hoping to snag at least a dance with her? Charles, Francis' little bro!
Kelli: Please help me with my Grace and Frankie withdrawals. I can't be the only person having them, can I?!
Rest assured, you are not. In the second season there will be a new lady causing friction with Grace. Get ready to say hello to Grandma Jean, Mitch's mom. She's fun, energetic, loves her grandkids and isn't afraid to show it. So basically everything Grace isn't. Will she click with Frankie? Hmm…
Boone: Broad City is my new obsession. I'll take anything you've got on season three!
We've got four words: Pop. Up. Warehouse. Sale. Oh yeah, Abbi and Ilana are braving one in the premiere.  
Spoiler Chat is new every Tuesday at noon ET/9 am PT on E! Online. BOOKMARK THIS PAGE so you can always find it!
Follow Kristin Dos Santos on Twitter, Facebook and Instagram and send in your questions there! (I read every single one!)
—Additional reporting by Tierney Bricker, Chris Harnick and Sydney Bucksbaum