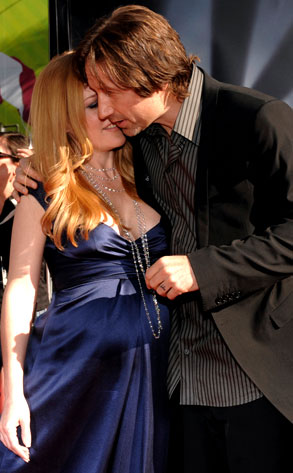 AP Photo/Chris Pizzello
Dear Ted:
I read in one of your blog's that David Duchovny and Gillian Anderson were seen going into a restroom together at the L.A. X-Files premiere. What happened? Do you have any more information on these two? It seems to me they are certainly more than just friends!
—Allyson
Dear Diddling Dave:
A picture speaks a thousand words. Or in D.D. and G.A.'s case, gropes. Check out the red carpet snaps and you tell me. This story's going away about as fast as Prop 8.
Dear Ted:
I'm thoroughly enjoying Obama's election as president, but at the same time I am dismayed that the same state that went so heavily for him appears to be endorsing the hateful Prop 8. I'm just an older, white, straight guy that believes that anyone paying the same taxes as me should have the same rights. I truly hope another effort is mounted to overturn this amendment. In the meantime we all need to stress it's about civil rights. Keep the faith Ted!
—Roy
Dear Slow and Steady:
I'll keep the faith as long as it takes. Thanks, appreciate the support.
Dear Ted:
You wrote, "This, while on the official family Osmond blog, it's clearly stated to vote yes on Prop 8. Just goes to show, don't believe everything you read." I am sure most of the Osmond family supported Prop 8. I am also sure that not all of the Osmond's agree on every issue. Do you think everyone in your own family is thrilled that you engage in homosexual behavior? If they do, maybe you should just change your website to the official Casablanca Family Website since everyone in your family sees everything exactly like Ted does.
—Eightisgreat