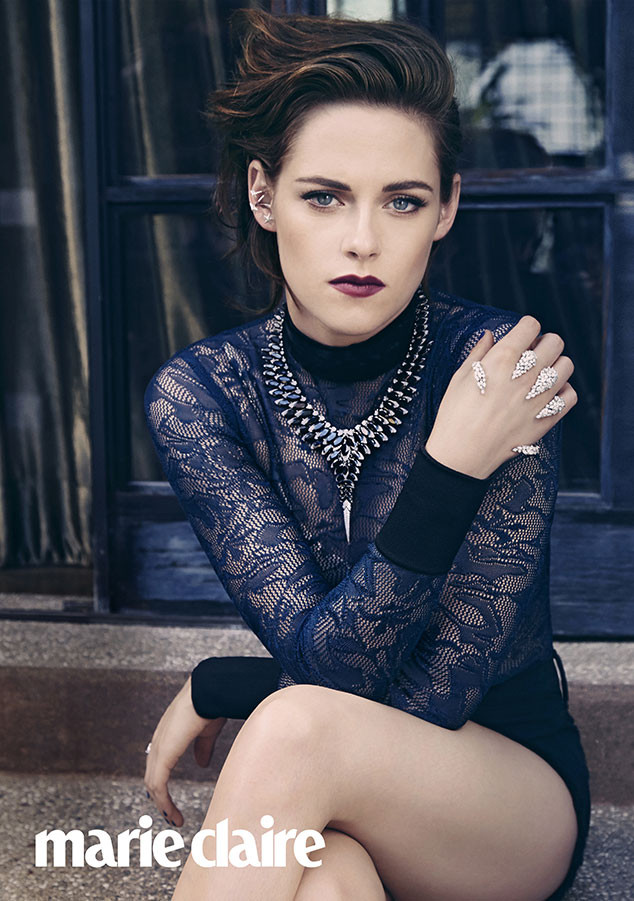 TESH/Marie Claire
Kristen Stewart has been to hell and back.
Recalling her tough time with fame in Marie Claire's August issue, on newsstands July 21, the American Ultra actress, 25, says, "I lit my universe on fire and I watched it burn. Speaking very candidly, it was a really traumatic period in my early 20s that kick-started something in me that was a bit more...feral." Stewart adds, "The public kind of burned me at the stake. But that's OK, I can take it. I'm not dead."
Long before she became a movie star, Stewart was regularly ridiculed. Recalling life as a 13-year-old, the self-described tomboy says, "All of a sudden, it wasn't cool to be one of the boys anymore." She recalls how one time, in middles chool, a male friend "loudly" announced, "in front of our whole group, 'Kristen's not a girl. What is she?' And I just died. It was a totally clichéd, very real insecure breakdown moment, when I was like, 'I f--king hate myself.'" Wincing at the memory, she says, "So many people say, 'Oh, it must have been so easy for you.' You think because I'm an actor that I didn't have a normal progression of self-hatred?"
"When I was younger, I really wanted to be with the adults, to be addressed as a grown-up," the Camp X-Ray actress tells the magazine. "I was the most open, forthcoming, confident little kid. I'm still trying to get back to that."