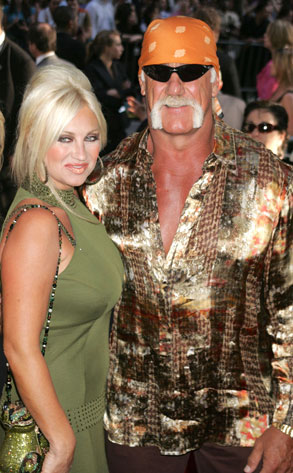 Nancy Kaszerman/ZUMA Press
A new headache for the Hulkster.

Hulk Hogan's soon-to-be ex-wife, Linda Hogan, has dropped a bombshell in the ever-acrimonious split, announcing she pulled the plug on their 24-year union because the former wrestler had an affair with their daughter's former BFF.
"When Linda discovered Hulk had [an affair] with Brooke's best friend, Christiane Plante, she made the decision to call it quits on the marriage," Linda's new publicist, Gary Smith, says in a statement to E! News.
"Hulk Hogan is saying anything he can conjure up to make Linda look bad in the media. Hulk has even implied that the VH1 hit show, Hogan Knows Best, was the cause of split in his marriage," Smith continues.
"Almost every statement that comes out of Hulk's mouth is a diversionary tactic to deflect attention away from the real reason Linda filed for divorce, two words: HULK'S CHEATING!"
David Houston, a lawyer for the 55-year-old grappler, whose real name is Terry Bollea, fired back with a statement of their own.
"It is unfortunate Linda Hogan will do virtually anything to keep herself in the public spotlight," the legal eagle said. " We are not going to demean this process nor the family any longer by responding to what amounts to pathetic pleas for attention."
The broadside reflects an increased vitriol in their estrangement and is a marked departure from legal documents Linda filed in January, which blamed Hulk's "legal shenanigans" and "suspicious behavior" for triggering her filing for divorce a year ago.
The 33-year-old Plante, who worked with Brooke on her 2006 album, had been spotted on numerous occasions on the arm of Hulk Hogan. Earlier this year, she told the National Enquirer that the Hogans marriage was basically over and that she was just helping raise his, er, spirits.
Linda Hogan, meanwhile, has been getting in touch with her inner cougar, spending quality time with 19-year-old Charlie Hill, who went to the same high school as she and Hulk's children. She has also just hired Hill his very own flack.
"That's what a publicist is for," says Smith. "Charlie is now in the public eye and he needs a rep just like every other public person, nothing wrong with that."
(Originally published Nov. 6, 2008 at 1 p.m. PT.)