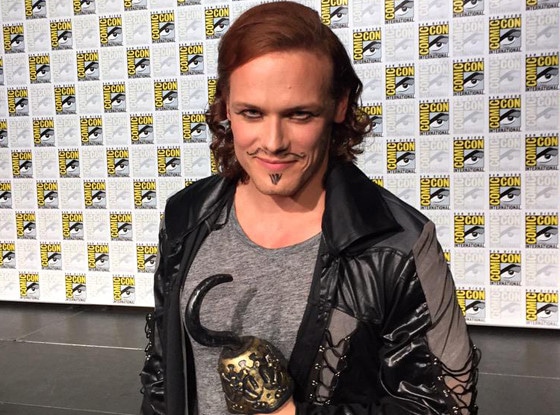 Twitter
Did you hear a lot of delighted screaming around 4:40 p.m. on Saturday? 
If you did, it was most likely in response to Outlander's Sam Heughan finally living up to his word at the Outlander Comic-Con panel by dressing up as a Colin O'Donoghue-style pirate, eyeliner and all. 
A couple of months ago, Heughan and Once Upon A Time's Colin O'Donoghue were the final two guys in E! Online's Alpha Male Madness tournament, and the two of them made a promise on Twitter: Whoever won would give their fans the pleasure of seeing them dress up as the other, meaning Colin in a kilt and Sam decked out in guyliner. 
Sam eventually took home the prize, and had yet to make good on his promise...until today. 
Of course, it helped that E!'s own Kristin Dos Santos was moderating the panel, and happened to bring a full pirate costume and a stick of eyeliner to make the stunt even easier. His costar, Caitriona Balfe, was on hand to apply the eyeliner, and the result was nothing short of incredible, as you can see above. 
Honestly, we've never been happier, and it didn't hurt that the rest of the panel was positively laden with juicy Outlander scoop, hilarious moments, and whiskey, of course. 
Ethan Miller/Getty Images
One of the most intriguing things we learned was that author Diana Gabaldon does have an ending for the series in mind, and has only told Heughan and executive producer Ron Moore. 
As for when that ending might actually occur, she's not quite sure. She won't know if her next book is the last until she's done writing it, but she said that there is "probably" more to come. 
The show, however, has only reached the second book out of eight, and Moore said that while the second season won't follow Dragonfly in Amber exactly, it won't stray too far from the book's general path. 
The first half of the season, which Heughan described as "voluptuous," will take place in France, and will be populated with a lot of French actors. According to Heughan, Balfe was a big fan of working with the not-unattractive actors, and Balfe joked that it was a "nice change." 
Balfe also apparently enjoyed the baby bump she wore for most of season two, and joked that she and producer Maril Davis would go shopping and jogging while wearing matching baby bumps. 
Season two will also feature a slight change of costume. Balfe will be wearing "larger bum rolls," while Heughan actually has to wear pants, for some reason. 
Fans at Comic-Con were also treated to an exclusive sneak peek at footage from the new season, along with a gag reel, which you can watch below. 
The full gag reel will be available on the season one DVD, which will be released September 29. 
Outlander airs on Starz and will return...someday.