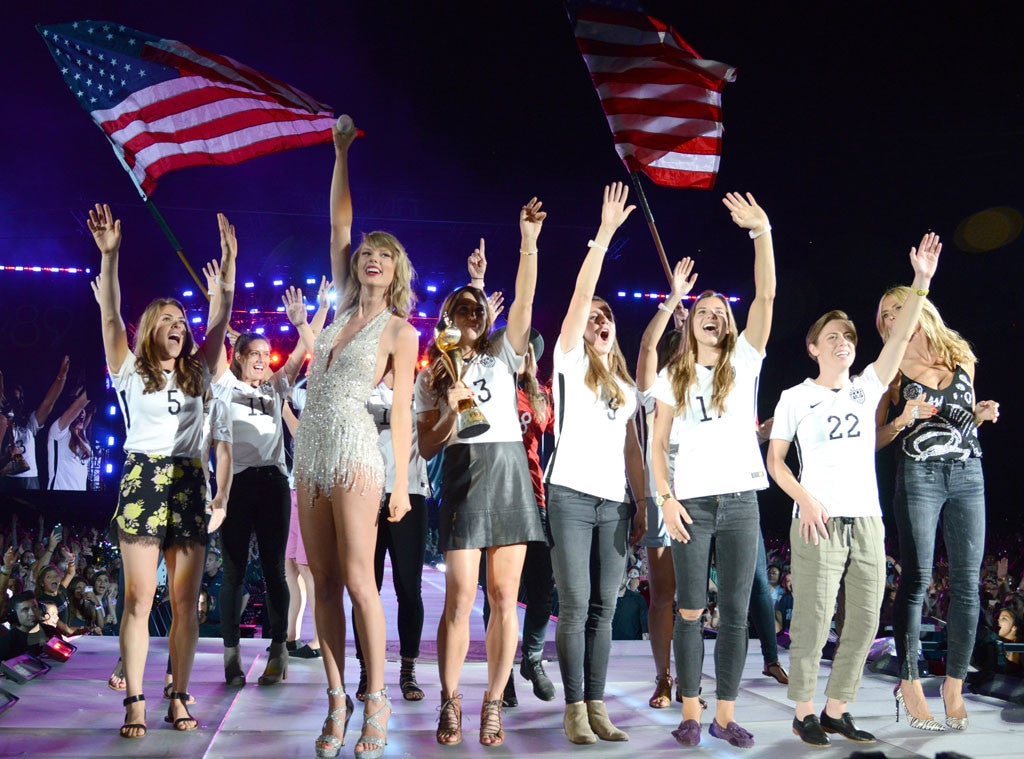 Kevin Mazur/LP5/WireImage
Taylor Swift just got herself a new group of world champion besties!
The pop star has brought up onstage many of celebrity friends since her 1989 tour started in May. On Friday, at her show at MetLife Stadium in Easter Rutherford, New Jersey, she introduced members of the U.S. women's soccer team, who won the 2015 FIFA Women's World Cup last Sunday.
Swift brought out players such as Alex Morgan, Carli Lloyd and Abby Wambach, who spurred massive cheers from the crowd as two giant American flags waved behind them.
"How does it feel to have them home?" Swift yelled to the audience, as seen in a video posted by NJ.com.
The soccer team had beaten Japan 5-2. Earlier on Friday, the players were honored with a ticker-tape parade in New York City. At the concert, Swift got to hold their trophy.
"Got to welcome the U.S. Women's Soccer Team home after their World Cup Victory- I LOVE THEM AND THEY ARE THE NICEST," Swift wrote on Instagram early on Saturday.
Swift also brought up onstage more of her celebrity pals, including supermodel and Project Runway star Heidi Klum, The Weeknd, with whom she sang "Can't Feel My Face," and her "Bad Blood" music video co-stars Lena Dunham, Hailee Steinfield, Gigi Hadid and Lily Aldridge.
Kevin Mazur/LP5/WireImage
"The Trinity, Frostbyte, Slay-Z, and Lucky Fiori brought the Bad Blood video to life tonight at #1989TourEastRutherford. Wonder what's in store tomorrow night.." Swift wrote on Instagram.
"For anyone wondering, yes the U.S. women's soccer team ladies are dope as f---ck," tweeted Dunham, aka Lucky Fiori.