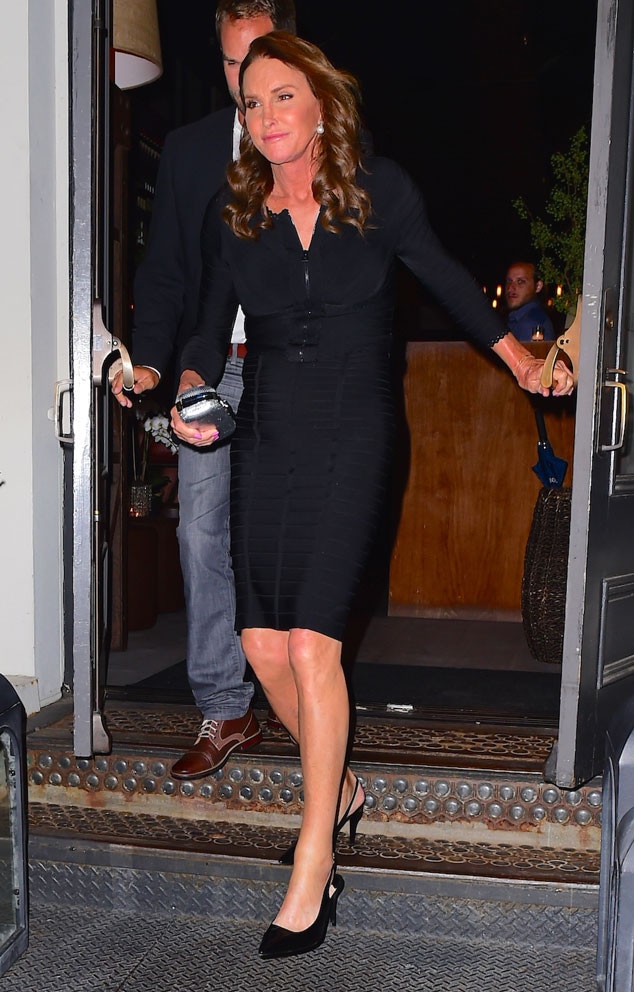 247PAPS.TV / Splash News
The race is on for Caitlyn Jenner.
Whether it's personal or political, it's a new heat and she's already picking up speed. Could her path eventually take her to the steps of the Capitol or a national political convention? Could Caitlyn become the pinup girl for a new Republican party?
Jenner first announced she identified as a transgender woman in her two-and-a-half hour interview special with Diane Sawyer. Next, she debuted as Caitlyn in a sexy white satin merry widow on Vanity Fair's coveted cover. Inside the glossy magazine, she showed off her femininity in classic, Old Hollywood glamour silhouettes and pinup poses.
Then Jenner knocked President Barack Obama off the Twitter podium by reaching 1 million followers in the fastest time ever. Even for a 1976 Olympic decathlon gold medalist, pop culture reality TV star and professional race car driver, her social media win is quite a feat.
But when Caitlyn declared she is a conservative Republican, she headed into the confusing crossroads of celebrity, advocacy, entertainment and politics. The GOP is famously known for opposing women's rights, same-sex marriage and other LGBT issues.
"One of the more interesting and exciting things about Caitlyn Jenner is that potential she has to bridge these two worlds of entertainment and politics," Log Cabin Republicans national executive director Gregory Angelo said.
E!; Craig Sjodin/Getty Images
Her timing strikes just as candidates are busily casting their names into the 2016 presidential race—meaning she has run head on into political conversation this election season.
"Caitlyn Jenner is now a part of the 2016 narrative whether she wants to be or not. Whether Democrats or Republicans want her to be or not," Angelo told E! News.
Her recent revelations triggered political support from both parties—President Obama, Republican presidential candidate Rick Santorum, Minnesota Democrat Keith Ellison (the first Muslim elected to Congress), and Republican Senator Lindsey Graham.  Grover Norquist, founder of the Americans for Tax Reform, expressed support calling her a "solid Reagan Republican."
"What it has shown me is this is not a partisan issue. There is educational work that needs to be done on both sides. So whether Caitlyn is ready or not, she is high-profile," Angelo said. "Political figures are weighing in on her and her politics, and I think there is a tremendous opportunity for her to use her own voice in all of this."
Celebrities like Jenner often use star power and wealth to influence public opinion and political change. Think George Clooney, Angelina Jolie, Clint Eastwood—the list goes on and on. Hollywood is typically more socially liberal than the Republican party, says Kyle Kondik, managing editor of Sabato's Crystal Ball at the University of Virginia's Center for Politics.
"Most stars generally support the Democrats because they take that side in the cultural wars," Kondik said. "Republicans love to bash Hollywood, but whenever a star comes out as Republican they get the royal treatment."
Now think Caitlyn Jenner. Woman. Republican. Reality TV star. Transgender. American hero. She doesn't fit into any nice political stereotypes.
"Republicans are always looking for celebrities to promote their party. Famous people in the entertainment industry are generally liberal Democrats, so those who are not can win a special place in the GOP—Ronald Reagan being the most famous example," Kondik said.
So what does the political landscape look like for Caitlyn, a transgender woman Republican? She has an opportunity to help change opinions and possibly assist Republicans at election time if she chooses to do so.
And there's plenty of room for growth for Republicans within the gay-lesbian-bisexual vote, Kondik said. In 2012, Democrats took 76 percent of the lesbian, gay or bisexual vote—a demographic that represents five percent of the total voting population. There was no voting record for transgender voters as the question was not asked. 
Today, turn on any channel and you'll see transgender issues are now a part of the popular conversation and culture. There's Orange Is The New Black; Transparent; Becoming Us and Laverne Cox's documentary, The T Word. Big Brother season 17 includes its first transgender contestant.  Royal Pains just aired a special episode featuring a transgender teen. And Caitlyn continues the trend as she launches her docu-series, I Am Cait, premiering July 26 at 8 p.m. on E!
Caitlyn has already garnered some support from Republicans. South Carolina senator and 2016 GOP presidential candidate Lindsey Graham offered support on a recent CNN State of the Union. "I haven't walked in [Jenner's] shoes," he said "I don't have all the answers to the mysteries of life. I can only imagine the torment that Bruce Jenner went through. I hope he—I hope she has found peace…If Caitlyn Jenner wants to be a Republican, she is welcome in my party," Graham said. Rick Santorum, another presidential candidate, also commented saying, "My responsibility as a human being is to love and accept."
Could Caitlyn take the stage at the 2016 Republican National Convention? Both Kondik and Angelo think it's highly unlikely. "It's just hard to imagine a party so reliant on conservative Christians would really embrace a transgender woman as a surrogate," Kondik said. "Having Caitlyn Jenner speak, for instance, in a prime-time slot at the 2016 GOP Convention would certainly represent outreach to the LGBT community. It's just hard to image that happening, even if Jenner wanted to do something like that."
Still, GOP 2016 hopefuls had better be prepared for Caitlyn Jenner debate questions. "If they are not, their communications directors are fools by the way," Angelo told E! News. The first of these questions are coming soon, as GOP presidential debates are already scheduled on FOX Aug. 6 and CNN Sept. 16.
"I think more attention will be paid not only to the usual political news media but also entertainment media such as E!," Angelo said. "I think it is inevitable the Caitlyn Jenner question will arise in debates. This is the consequence of a high-profile transgender Republican celebrity."
TJDH Imagez / Splash News
 When Caitlyn Jenner's sit down interview with Sawyer aired, she propelled transgender issues again into the spotlight. Vanity Fair catapulted her impact and reach even further. "What the special did more than anything else was provide a deep education about individual and personal struggles transgender individuals have in terms of being true to themselves and the incredible twist that Caitlyn Jenner came out twice as transgender and as Republican," Angelo said.
Mara Keisling, the executive director of the National Center for Transgender Equality called the coming out a "remarkable public education moment." It's a milestone that millions and millions of people saw, read, and reposted.
"All of those people see the support she has received from family and the Kardashians and Kayne West and all of the other celebrities who have been supportive," Keisling said. "It is important for the example it sets for real people who have been terrified and never told anyone before and thought they would never be accepted themselves. They can see her come to terms with it and get acceptance."
Jenner telling her story also had a ripple effect, leading to many other transgender people sharing their stories with the media in the aftermath. "Jenner is only one story but it triggered a tsunami of media interviews. A lot of folks got to tell their story who wouldn't have gotten to tell it before," Keisling said.
Most celebrities, stars, athletes who have come out as LGBT usually do so at the "tail end of their careers or spotlight," Angelo said. "What is unique here is whether you see Caitlyn Jenner in her height in the Olympics in the 1970s or the marketing behemoth in the Keeping Up with the Kardashians television series, she is someone who came out as transgender at the top of her game when all eyes were on her. And for that reason, I don't know if there is anyone cut from quite the same cloth as she is," he said.
Angelo says Ellen DeGeneres is likely the closest celebrity to compare to Caitlyn's coming out. "Ellen came out at the peak of her stardom starring in a hit TV show and took a big risk coming out at the height of her fame," Angelo said. "After a few years of trying to reclaim her career, she is now even more famous than she ever had been but when she did there wasn't tremendous understanding about gays and transgender issues weren't even on the radar."
"Everybody who comes out moves the meter a little bit, and whenever someone gets so much attention like Jenner, it can help a lot of people instantly and instantly help educate and that is a huge deal," Keisling said. "It isn't the end of bigotry and ignorance, but it is the end for some people."  
When asked by Diane Sawyer in her April interview if she would be willing to ask Republican leadership to promote LGBT issues, perhaps speaking to House Speaker John Boehner and Senate Majority Leader Mitch McConnell, Jenner said she would. "In a heartbeat, why not?" she said. "And I think they'd be very receptive to it."  She added she didn't think either party had a monopoly on "understanding."
Will Ms. Jenner go to Washington? Angelo hopes so. "There is an invitation on the table. I am letting Caitlyn Jenner's agent know I would be more than happy to take her to Capitol Hill and introduce her to prominent Republicans," Angelo said.
And Caitlyn has already accomplished "tremendous educational advocacy" with Republicans just by being who she is and letting everyone know, Angelo added. "One can only imagine how much she could do if she made a point to come to Washington and actively engage in advocacy," he said. "The potential to make in-roads has never been greater."
Caitlyn Jenner is already taking the steps toward increased advocacy and possible political involvement. She's visited transgender youth at L.A.'s LGBT Center in Los Angeles, traveled to attend an event with the Human Rights Campaign (HRC), America's largest civil rights organization working to achieve lesbian, gay, bisexual and transgender equality, in San Francisco, and met with other transgender women in New York City.
"She is doing what she can to get up to speed on the issues that affect all members of the transgender community, especially those that might not have the same advantages that someone of her celebrity does," Angelo said. "Lobbying isn't a rocket science but it is an art."
Last Monday, she flexed her social media and popular culture power, kicking off her first in a series of editorials for Who Say. Caitlyn wrote about the freedom of finally getting to know her own transgender community.  In The Real Me series, Caitlyn plans to tell stories about people, explore "serious issues" within the LGBT community, and share the lessons she's learning on this new course.
"Who knows what the future may hold. From everything I have learned, Caitlyn Jenner is not flying fast and loose with any of this and is proceeding carefully with the acknowledgement of those transgender advocates before her and taking it one day at a time," Angelo said.
Could Caitlyn be the next celebrity to run for political office? "Political involvement is a good predictor of future political activity. That's how Ronald Reagan got involved. He started to become active in the Republican party. He was a celebrity endorser to get support for candidates and then ingratiated himself to party leaders and then he got some credibility and so on," Kondik said.
Celebrities have plenty of options for getting politically involved if they want. There's always the opportunity to host fundraisers and record robo-calls, those automated, political campaign messages. She could simply begin to meet with state legislators in her own home state of California, Angelo said.
"Let's first let Caitlyn Jenner figure out what she wants to do before trying to create a tremendous challenge or goal or expectation or demands for her to live up to. It creates unreasonable expectations for someone who is just doing her best to help the transgender community," Angelo said. "What the future holds is entirely up to Caitlyn Jenner."