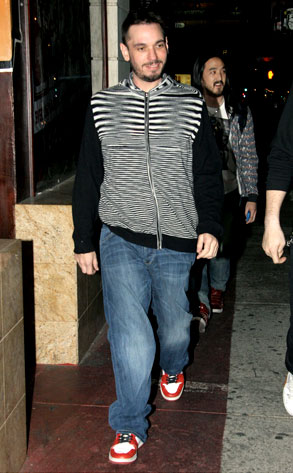 Josephine Santos, PacificCoastNews.com
DJ AM has gotta be the celebrity Superman. Deej, here having a night out at Hyde in WeHo (a nightclub so two years ago, but we'll let that slide this time), has gotta be one of the strongest dudes we can think of. AM's been through a slew of hardships in his 35 years, including going through gastric bypass surgery and surviving a friggin' plane crash.
That's more than one guy should go through in a lifetime, fer sure. But here he is, a little over a month since being in the burn ward, smilin' down Sunset Boulevard on a Wednesday night. Privileged H'wood princesses with no problems rarely give off such a carefree vibe, tho we figure his good mood might also have something to do with Obama's win, or former flame Mandy Moore 's being back in his life. Wouldn't either one of those make ya grin ear to ear?
—Additional sass by Becky Bain