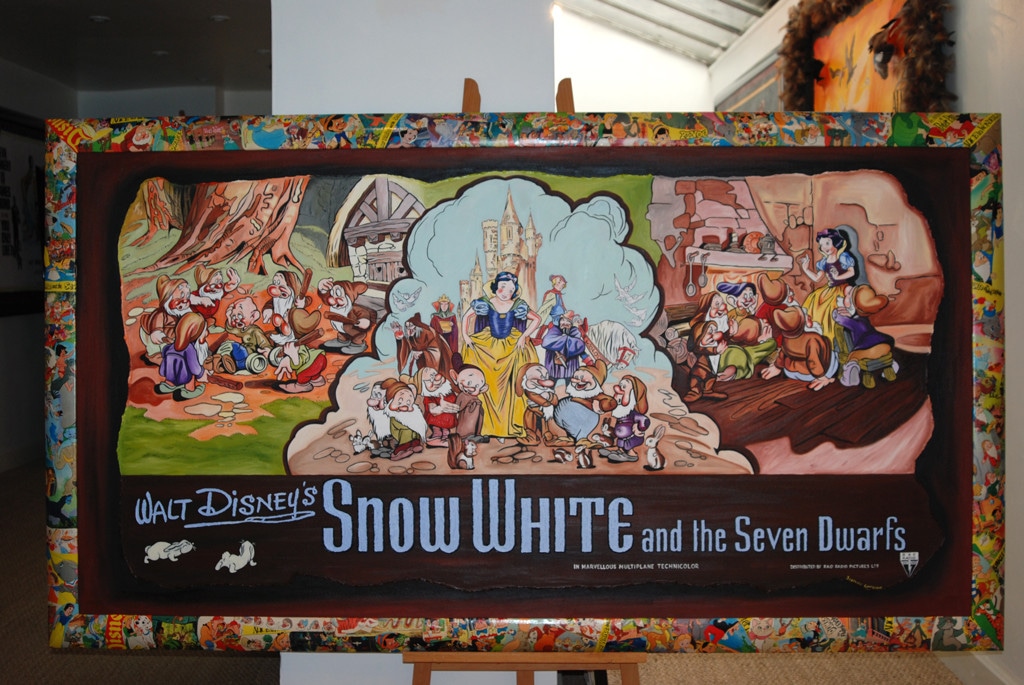 Homarge Gallery/Stephen Cawston
Princess Charlotte must be swimming in presents, so after a while it has to become tough to figure out what to get the little girl who has everything!
But one person seems to have figured it all out. Instead of buying the royal tot a toy or new clothes, someone "very close to the family" commissioned a rare hand oil painting of Snow White and the Seven Dwarfs, according to Vanity Fair. How's that for a gift!
The almost seven-foot-wide canvas is reportedly worth $200,000, but Charlotte hasn't been able to see it yet. Right now it remains bubble-wrapped at the Homarge Gallery, waiting to be delivered to Kensington Palace. The colorful painting is a replica of the original billboard for the Disney movie, which was released in 1937.
Hand-drawn and painted by Stephen Cawson, the canvas apparently took one month to paint. But Cawson didn't stop at the little royal's present; he also painted a "twin" version that's hanging in the gallery. The artist actually specializes in hand-drawn movie poster recreations, so it's no wonder the anonymous gift giver selected him for the project. 
"It's an amazing painting and very original," a source told the magazine. "The artist has totally captured the magic of the film. [Prince] William and Kate [Middleton] are going to be absolutely thrilled when they receive it."
This painting will probably be one of Prince George's little sister's more extravagant gifts, as Prince Charles kept his low key, giving her a silver photo frame engraved with his insignia for the christening. Inside was a photograph of himself with his grandchildren. Pippa Middleton gifted her niece with designer clothes, which isn't too shabby either!
Babies grow out of their clothes, so this no-name gift giver was definitely thinking ahead because she can hold onto this forever!
Disney fans everywhere are definitely jealous.