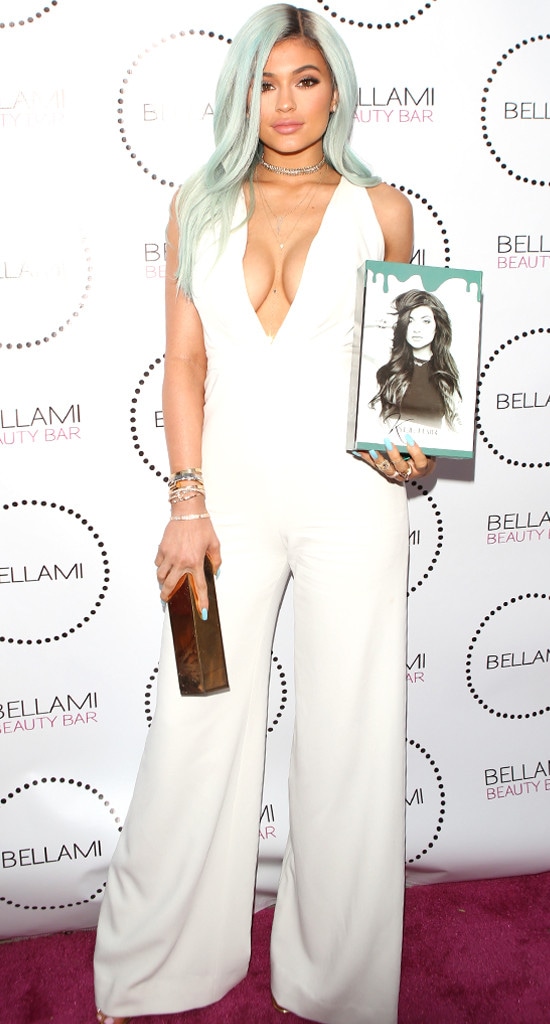 Xposure/AKM-GSI
Kylie Jenner's back to blue!
Blue hair, that is, only this vibrant, aquamarine hue might just be her boldest yet. The 17-year-old Keeping Up With the Kardashians star debuted her lightened locks Thursday at the launch of her Kylie Hair Kouture extension line at Bellami Beauty Bar in West Hollywood.
Naturally, she Instagrammed a few snaps of her blue 'do, which she paired with a plunging white jumpsuit. But wait, are any of you dolls experiencing déjà vu with this hue? If the answer is yes, it's for good reason…
Back in April, Kylie temporarily tried out these tresses. She Instagrammed a photo then, too, but she was back to her brunette self in no time.
Hey, when you have your own extension like, you're expected to shakes things up!
It's obvious Kylie is quite the style chameleon—remember when she rocked a turquoise ombre bob at Kim Kardashian and Kanye West's wedding? And while she's pretty open to most cuts and colors (blue, red, black, blond, green, gray...) there are a few she's not quite as likely to try…
"I'd probably never go pink or purple [when it comes to my hair] because blue is my thing," she told Style.com earlier this year. "Other than that, I'm extremely open to changing my style and trying different things."
One thing Kylie doesn't do, though, is steal anyone else's style! When Kim went platinum blond earlier this year, Kylie praised her big sis' new look, but as she told E! News, "I would go that far...but, it's her thing now, so I don't wanna copy her!"
Don't think we have to worry about that. Kylie's got the trendsetting tresses of the fam!
New episodes of Keeping Up With the Kardashians return later this year. The premiere of I Am Cait airs July 26 at 8 p.m. only on E!
Watch:
Kylie Jenner Steps Out With Blue Hair