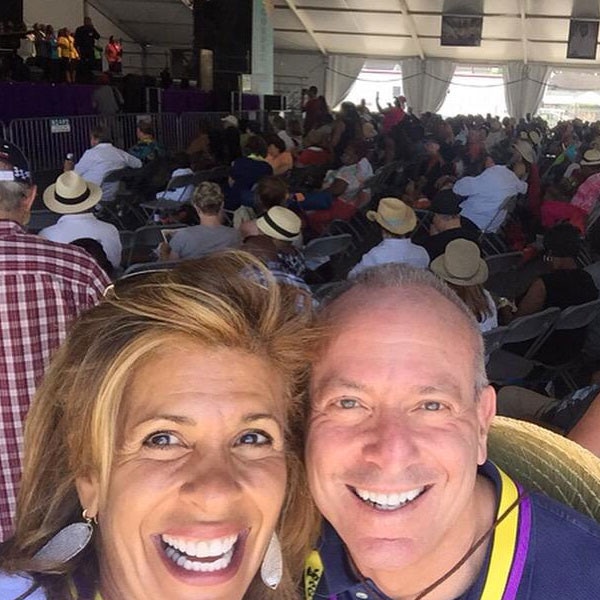 Twitter
Hoda Kotb and Joel Schiffman are very much in love!
The Today show co-host opens up about her boyfriend of two years in the new issue of Closer Weekly, and by the sounds of it they're might be some wedding bells in the future. Hoda, who has been married once before, dishes that Joel AKA "Boots" taught her how to love again.
"Joel showed me that anything is possible. Like, at 50 years old, you can have butterflies—you can feel that again," she says. "At 50, you can trust someone and realize that there are second chances in life. Joel showed me all of that."
She also revealed that her boyfriend has an adorable romantic side that often comes out in the early morning! "Every morning when I go to work, he sends me a text," she explains. "Right when I'm sitting down, I get a text that says, 'I miss you,' 'I love you.' It's sweet."
Cue the awws!
As for whether fans can expect these two to tie the knot, Hoda says she isn't sure what's going to happen. But it definitely doesn't seem off the table! "I don't know! I don't know!" she says.
She might not know, but she definitely can admit that she's crazy for him. "He is kind, he is honest, he is handsome," she adds.
It's so nice to hear her talk so openly about her boyfriend, as his identity wasn't even revealed until this year when Billy Bush accidentally "outed" Hoda! We all, including Hoda, can forgive the Access Hollywood host because other reports of the couple on the beach had already been published!
At the time, Hoda joked her man of 1.5 years was "out from the shadows," admitting, "You know I have to say it feels...I feel like some relief because you know when you feel like you're keeping a secret...I talked to him this morning and I was like, 'Who cares?' He said, 'Who cares?'"
She also described him as "the greatest guy ever" to Bravo's Andy Cohen.
(E!, NBC and Bravo are all part of the NBCUniversal family.)