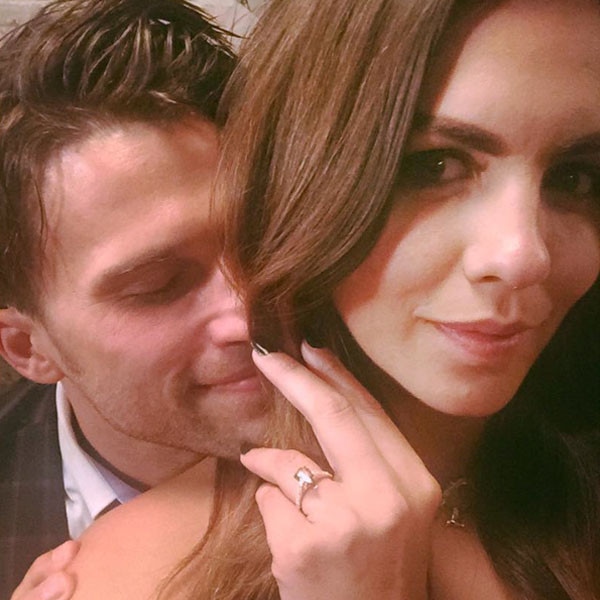 It's about time!
As viewers of Bravo's Vanderpump Rules well know, Katie Maloney had been pressuring her boyfriend Tom Schwartz to propose for years. On Tuesday, he finally popped the question! "So I said... YES!!!!" the reality star wrote in an Instagram caption. In the picture, Maloney proudly showed off her diamond ring.
Schwartz also shared a post-proposal picture with his Instagram followers. "The twinkle in my tooth says it all! She said YES! (Reluctantly) shout out to @kylechandesign for designing the perfect ring," he wrote.
Asked if Maloney was The One on Bravo's Watch What Happens Live in February, Schwartz said, "It's unequivocal. She's my baby." At the time, Maloney also said she was still pushing for a proposal. "He knows what the time frame is," she said. Then, while referring to Schwartz's confession that he had cheated on her with a second woman, she told Andy Cohen, "Given everything that happened this summer, I think it's only fair that I give him a little shove and a little bit of an ultimatum."
The proposal happened at Pearl's Rooftop on Sunset Blvd. in L.A. According to a source, "It was really special and intimate." The restaurant set up a table for the cast on the rooftop over looking the city. They dined on oysters, crab cakes and petite filet mignon for dinner. After the surprise engagement, they all celebrated with a champagne toast. Then the couple was calling everyone telling them the news while the girls were all raving about Maloney's ring.
The group stayed late at Pearl's and celebrated Tom Sandoval's birthday. His girlfriend, Ariana Madix, brought out a birthday cake and the Bravo cast sang "Happy Birthday and Anniversary Tom, Tom and Katie" and threw confetti everywhere. The pals also ordered a round of Don Julio shots of to celebrate.
Celebrity jeweler Kyle Chan shared four close-ups of the ring on Instagram and revealed that it features a 2-carat pear-shape champagne diamond in 14-karat rose gold. The "little pink sapphire" inside the band was added to "represent" Schwartz.
Maloney—who once cried to her boss Lisa Vanderpump after being given a ring on a string—said she is "beyond happy," adding, "One of my and @twschwa closest friends designed this gorgeous ring and that makes it all the more special!"
Sandoval captured their special moment on Instagram, too, writing, "Most def happened...So amazing! So awesome! So,SO many Great things!!" Madix regrammed one of Maloney's photos and called the couple "perfection."
Scheana Shay, who got married last year, took a picture with a newly engaged Maloney and posted it on Instagram, writing, "BFFs with rings!" In another Instagram photo caption, Shay wrote, "I'm SOOOOOOO happy for these two!!! Congratulations!!!!!!" She also tweeted about the couple's engagement, telling her followers, "Great night tonight for @TomSandoval1's bday with an awesome twist! Happy bday buddy! And congrats to @MusicKillsKate and @twschwa."
Even former Sur employee Kristen Doute shared her well wishes via Twitter, writing, "Ahh bubbas!! I love you both so much! Congrats!!! I played Cupid!!" In another tweet, she wrote, "Hands down this is the best day I can ever remember..."
Maloney and Schwartz would likely agree.
(E! and Bravo are both members of the NBCUniversal family.)
—Reporting by Sara Kitnick