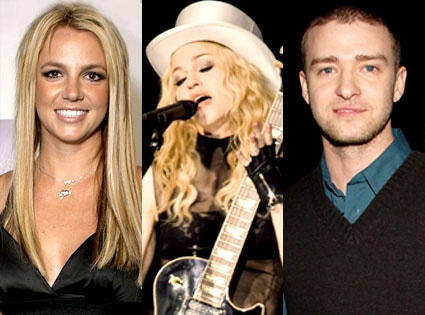 Todd Williamson/Getty Image; Kevin Mazur/Getty Images; Jakubaszek/Getty Images
If there's one thing we can count on from Madonna, it's the making of a little music history now and again.
Britney Spears and Justin Timberlake will be performing alongside the Material Girl Thursday when her Sticky & Sweet tour touches down at Dodger Stadium, E! News' Ryan Seacrest has learned.
"They are going to be onstage performing with Madonna," Seacrest said on KIIS-FM host DJ BoyToy Jesse's Wednesday afternoon show.
Of course, while Timberlake and Spears have both collaborated with Madge individually, the exes haven't been spending much quality time together in recent years.
"If Justin and Britney end up on that stage with her...I don't know if I've ever seen anything quite like that before," Seacrest said. (And he's seen a lot—remember Céline Dion performing with hologram Elvis on American Idol?)
Seacrest said he should have more details on his KIIS morning show tomorrow: "Expect some real serious surprises."
Madonna has a history of sharing the stage with hot young thangs: It was the veteran diva who brought Spears and Christina Aguilera together at the 2003 MTV Video Music Awards, when the popster duo teamed up for "Like a Virgin" and "Hollywood" and then took turns smooching the queen bee.
Now, if Madonna ends up working that kind of magic with Brit and J.T., watch out.