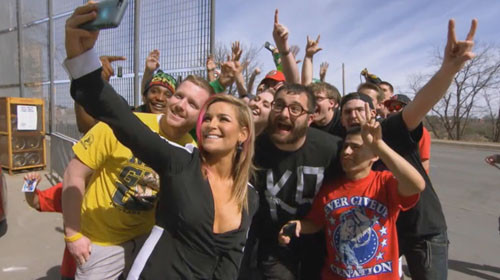 On USA Network, WWE Raw is the longest running weekly episodic television program in U.S. history.
Not USA Network history and not basic cable history, but the history of the medium.
Also on USA, WWE Tough Enough is currently in the middle of its sixth season, featuring WWE Superstars Hulk Hogan, Chris Jericho and Daniel Bryan with WWE Diva Paige. And tonight, season four of Total Divas premieres on E!, so that's four seasons of a rather popular reality show about female wrestlers! 
Over the last 30 years, wrasslin' has risen to pop culture prominence. It began with the rise of Hulkamania in the 80s. It continued with the Monday Night Wars in the 90s—when more than 10 million viewers tuned into Raw and Nitro every week. The societal impact of the WWE continues today. Clearly it is a part of our pop culture fabric.
In honor of the Total Divas premiere, here are the top 16 professional wrestlers who have crossed over into pop culture. So pull out your nWo shirts, find your Playboy featuring Sable, say your prayers and eat your vitamins.  This is "wrestling with celebrity."  And if you're not down with that, we've got two words for you…
16. Daniel Bryan
Key stats: Three-time World Champion, 2.2 million Twitter followers
Notable roles: Himself, Total Divas; Judge, Tough Enough; Leader of the "Yes Movement."
Who'd have thunk that a 5'8" vegan would be the most popular wrestler since Stone Cold Steve Austin? When he's not hurt, he's the best in the business. He's also beyond cool and humble and awesome in Total Divas & Tough Enough. If he can stay healthy, he has no ceiling. He's also such a kind husband to Brie and he'll be an amazing dad if they decide to start a family.
If you have a toddler going through a "no" phase, just crank up some YouTube videos of him and play them on repeat.  Yes! Yes! Yes!
Paul Andrew Hawthorne/WireImage
15) "Rowdy" Roddy Piper
Key Stats: 122 credits on IMDb, Main-Evented the first Wrestlemania
Notable Roles: "Da' Maniac" in It's Always Sunny In Philadelphia, "Nada" in They Live, "Quick Rick Roberts" in Body Slam
Hulk Hogan and Cyndi Lauper's primary foe in the Rock N' Wrestling days, the devious Hot Rod was as well known for his mouth as for his in-ring work. He was the lead in two movies in the 80s, before Hogan landed the lead in No Holds Barred. Cultural relevance continues today as he's been hilarious in It's Always Sunny and still appears on Raw every now and again.
Mike Coppola/Getty Images
14) Mike "The Miz" Mizanin
Key Stats: World Champion for 160 Days, 2 million Twitter followers
Notable Roles: Himself on The Real World, Real World/Road Rules Challenge, Tough Enough, Fear Factor; Host, Tough Talk
The Miz embodies the modern superstar—self-made, paid and social-media savvy. A reality star turned wrestler, not the other way around, Miz is poised to remain a star for years to come.  His character, "The Miz." was actually developed during an episode of The Real World, a brash and cocky contrast to housemate Mike Mizanin's normal frat-guy behavior.
13. Stacy Keibler
Key Stats: Final three, DWTS; daughter Ava Grace with husband Jared Pobre turns 1 in August
Notable Roles: Dated George Clooney; Host, Supermarket Superstar
She's the only person in history to have been powerbombed through a table by the Dudleys and summered on Lake Como. She's beautiful and talented and a doting new mom. And she has maybe our favorite Burning Man Instagram photo ever.
12. Jesse "The Body" Ventura
Key Stats: 6 years as Navy SEAL in Vietnam, 5 years as governor of Minnesota
Notable Roles: "Blain" in Predator; "Captain Freedom" in The Running Man; Governor of Minnesota 
He's been in the news recently for winning a defamation suit against the estate of American Sniper Chris Kyle, who lied about knocking out the former wrestling champ in a bar fight.  He's a conspiracy theorist and a bit of a 9/11 truther.  He's hosted several television shows and written eight books. In other words, he's the man.
Michael Buckner/Getty Images for CinemaCon
11. Kevin Nash
Key Stats: 6-time World Champion, 112 IMDb credits
Notable Roles: Tarzan in Magic Mike and Magic Mike XXL; Founder of nWo
While Magic Mike XXL just got jackknife powerbombed at the box office by Pixar and Indominus rex, we're sure Big Kev was great in it. He was great in the first Magic Mike and John Wick and The Longest Yard and Grandma's Boy and pretty much everything in which he's appeared. When he and Scott Hall invaded Nitro in 1996, he set into motion a series of events which eventually had 10 million people watching wrestling every Monday night. The nWo t-shirt, to this day, is an amazing fashion trend. He is just too sweet.
10. Brie and Nikki Bella
Key Stats: 3-Time WWE Divas champions, 4.2 million Instagram followers, 1.68 million Twitter followers
Notable Roles: Breakout stars, Total Divas; Cover Girls, Muscle & Fitness Magazine
The most intriguing aspect of Total Divas for wrestling fans is that it breaks "kayfabe." That is, it shows WWE superstars out of their onscreen characters. This is unprecedented in the history of the WWE. For example, Vince McMahon used to give "Million Dollar Man" Ted DiBiase huge per diems so he could make it rain in public.
The Bellas, out of character, are so lovely. They're gorgeous, sensitive, tough-as-nails girls. They're so easy to root for and their relationships with Daniel Bryan and John Cena respectively seem like healthy, supportive, loving relationships. They've worked so hard for everything they've gotten and that's why everyone loves their Twin Magic.
9. Chris Jericho
Key Stats: 3-Time World Champion; 65 IMDb acting credits
Notable Roles: Host, Tough Enough; Contestant, DWTS; Lead Singer, Fozzy; "Bruce" in Sharknado 3: Oh Hell No!
The Ayatollah of Rock n' Rollah is currently hosting the latest season of Tough Enough on USA Network. He has worn as many pop culture hats as anyone- rock star, game show host, actor, podcaster and reality show contestant. He was also hilarious in MacGruber.  He's considered by many to be the perfect combination of articulate promo cutter and in-ring worker.  In short, he's the perfect person to carry the WWE's banner into the real world.
Russell Turiak/Getty Images
8. Randy Savage
Key Stats: 6-Time World Champion, WWE Hall of Famer
Notable Roles: "Bone Saw McGraw" in Spider-Man; Slim Jim Spokesman
Ooooh yeah, Macho Man, Randy Savage first rose to national prominence as Hulk Hogan's greatest threat during the 80s. He was a progressive, choosing an unknown woman over the more popular male managers. His Slim Jim commercials were one of the greatest ad campaigns in history. His match against Ricky Steamboat at Wrestlemania III is considered by many to be the best match of all time. And his memorable appearance in Spider-Man cements his legacy not only as one of the best in ring performers of all time, but also as a true pop crossover. Rest in peace, Macho Man. We'll all snap into a Slim Jim in your honor.
7. Andre The Giant
Key Stats: 7'4", 520 lbs; 8th Wonder of the World, "Has a Posse"
Notable Roles: "Fezzik" in The Princess Bride; Shepard Fairey's OBEY Giant
The lovable Andre was a legendary sweetheart and an even more legendary drinker.
"André was due to have an operation after he wrapped the movie," Princess Bride star Cary Elwes would later write about Andre. "But until then the only medication he could take to deal with the pain was alcohol. Now, if you think André could eat, you should have seen him drink. It was legendary. Word had it that even before he developed the injury he could drink a hundred beers in one sitting. According to some estimates his average daily consumption of alcohol was a case of beer, three bottles of wine, and a couple of bottles of brandy."
Here's a picture of Andre's hand and a can of beer. Why he could drink so much is readily clear. He impressed those both far and near.  If you were his opponent, you'd live in fear.
Stop rhyming. We mean it!
6. Ric Flair
Key Stats: 16-Time World Champion, WWE Hall of Famer
Notable Roles: Stylin', profilin', limousine riding, jet flying, kiss-stealing, wheelin' n' dealin' son of a gun!
Woooooooooooo! The greatest performer on the mic of all time. He is a true cultural icon. If you want to see "The Nature Boy" in all his glory, search "Ric Flair promo" on YouTube. Enjoy going down that rabbit hole.
5. Dave Bautista
Key Stats: 2-Time World Champion, 1-time Bond Villain!
Notable Roles: "Drax" in Guardians of the Galaxy, "Mr. Hinx" in Spectre 
Bautista is the next great crossover star, in the vein of The Rock. His badass Drax helped Guardians of the Galaxy to $770 million at the box office. He's going to be a freaking Bond villain next. And Spectre is going to be huge. If Skyfall did $1.1 billion worldwide, Spectre can do $1.5. Christoph Waltz is likely Blofeld? Excuse me? Bautista could potentially have a $2 billion box office gross on his first two films. 
Moses Robinson/Getty Images for Wendy's
4. "Stone Cold" Steve Austin
Key Stats: 6-Time World Champion, Toughest S.O.B. on the planet
Notable Roles: "Paine" in The Expendables; "Detective Jake Cage" in Nash Bridges; Host, The Steve Austin Show Podcast; Host, Steve Austin's Broken Skull Challenge
 Stone Cold is the most popular wrestler from the peak of wrestling's popularity.  He's the greatest of all time.  And that's the bottom line, because Stone Cold said so!
3. John Cena
Key Stats: Most requested Make-a-Wish celebrity of all-time, 12-time World Champion
Notable Roles: "Steven" in Trainwreck, "John Triton" in The Marine; Himself, Total Divas
This century's signature WWE star, Cena is branching out into television and movies. Amy Schumer discussed his prosthesis in the upcoming Trainwreck at length. She kept it as a prize.
Girlfriend Nikki Bella is not jealous of his onscreen lovemaking with Schumer. "He was like the most devout boyfriend I have ever seen," Schumer said. "When he talks about his girlfriend, he lights up."
What will happen with the two of them this season? Put a ring on it, champ!
Jonathan Bachman/AP Images for WWE
2. Hulk Hogan
Key Stats: $425 million career box office, 134 acting credits on IMDB, 12-time World Champion
Notable Roles: "Thunderlips" in Rocky III, "Rip" in No Holds Barred, Himself in Hogan Knows Best; Judge, Tough Enough
The 1982 Memorial Day weekend box office was ruled by a little movie called Rocky III. The first fight in that film was a charity brawl between Rocky Balboa and wrestling champ "Thunderlips, The Ultimate Male" played by Terry Bollea, aka Hulk Hogan. The next year, Vince McMahon signed Hogan to be the WWF's signature star. Hogan elevated wrestling into the mainstream.
Together, Hogan and McMahon ushered in the Wrestlemania era, and wrestling as we know it today. The original sports entertainment crossover. Hulkster has been a movie star, scripted TV star and reality star. He's currently a judge on USA Network's Tough Enough. Whatcha gonna do, bruddah, when the pop culture icon runs wild over you?
Kerry Brown, Paramount Pictures
1. Dwayne "The Rock" Johnson
Key Stats: $ 5.75 billion career box office, 8-time World Champ
Notable Roles: "Hobbs" in the Furious franchise, "Beck" in The Rundown, "Ray Gaines" in San Andreas; The Scorpion King; HBO's Ballers

He's been known as "The People's Champ" and "The Great One" and "The Brahma Bull," but here's a superlative that all you jabronis need to start wrapping your head around—"The Box Office King."
Clooney vs. The Rock this spring wasn't even close. Tomorrowland was released on May 22 and has made $203 million worldwide. San Andreas came out a week later and has made $445 million thus far. Rocky layeth the smacketh down on Danny Ocean. So, for the millions… And millllllions of dollars that San Andreas, and every other Dwayne Johnson movie made, we declare The Rock to be the Sports Entertainment champ. 
We all smelllllllllll what the Rock  is cooking.
(E! Online and USA Network are both members of the NBCUniversal family.)