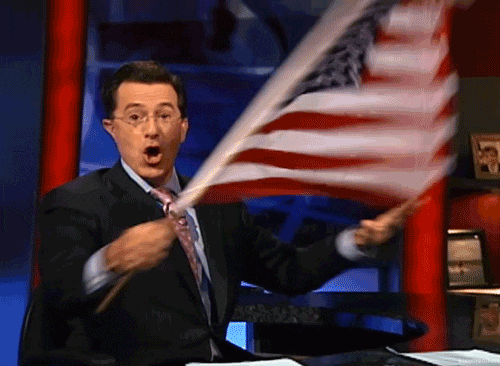 The stars (and stripes) aligned this past weekend to make sure that the U.S. Women's soccer team would win their third championship during America's birthday weekend! The only thing that would have made it more perfect is if we played England in the finals so we could really put salt into the wound of that whole Declaration of Independence thing.
But we'll take the win regardless of who it was against! The patriotism was so glorious at the final game of the 2015 Women's World Cup, and Americans were American-ing their asses off in the stands of the match versus Japan. Because when it comes to showing off pride for our country, no one does it louder or more obnoxiously than the US of A! 
Here are the most American-y fans spotted at the World Cup finals where our badass women took home the big win for the third time!
1. These two who don't mind wearing ridiculous wigs to show off their colors:
2. This hero who knows how to strike a pose like a BAMF:
3. This gorgeous visual assault of red, white and blue:
4. This little dude who realized cheering for your country should start as soon as you can walk and talk:
5. These guys who know they have the legs to pull of these awesome outfits:
6. This guy who classed up his outfit with a gold vest, which was also a good prediction of what place the U.S. team would finish in:
7. This girl with the bald eagle face painting that is staring into your soul to make sure you love your country the maximum amoun1:
8. This guy who made good use of his bald head. He is truly an inspiration:
10. These fans look great, sure, but we're more interested in the kid in the left, clearly checking out the pretty girl lineup. That's American as hell:
11. This fan who literally reflects patriotism:
12. This girl who might fly away with her American flag cape, probably so she could go fight crime:
13. These two who are so damn patriotic they have to wear protective helmets:
14. All these incredible fans who are bleedin' red, white and blue:
15. This lady who is clearly a fan of both her country and Kanye West:
16. This girl who is wearing the creepiest contacts ever so she can intimidate everyone. That's how we do things in America!
17. Abby Wambach's wife is obviously a superfan of her country and her spouse, and their hug melted even the coldest of hearts around the nation:
18. And finally, the person who wore a bald eagle head during the entire game. Fly high, patriotic bird king. Fly high.
Congrats, ladies! You dominated that tournament and we are so proud of you! U-S-A! U-S-A! U-S-A!
Follow all the excitement of the World Cup Russia 2018 on Telemundo Deportes: Copa Mundial de Fútbol Rusia 2018