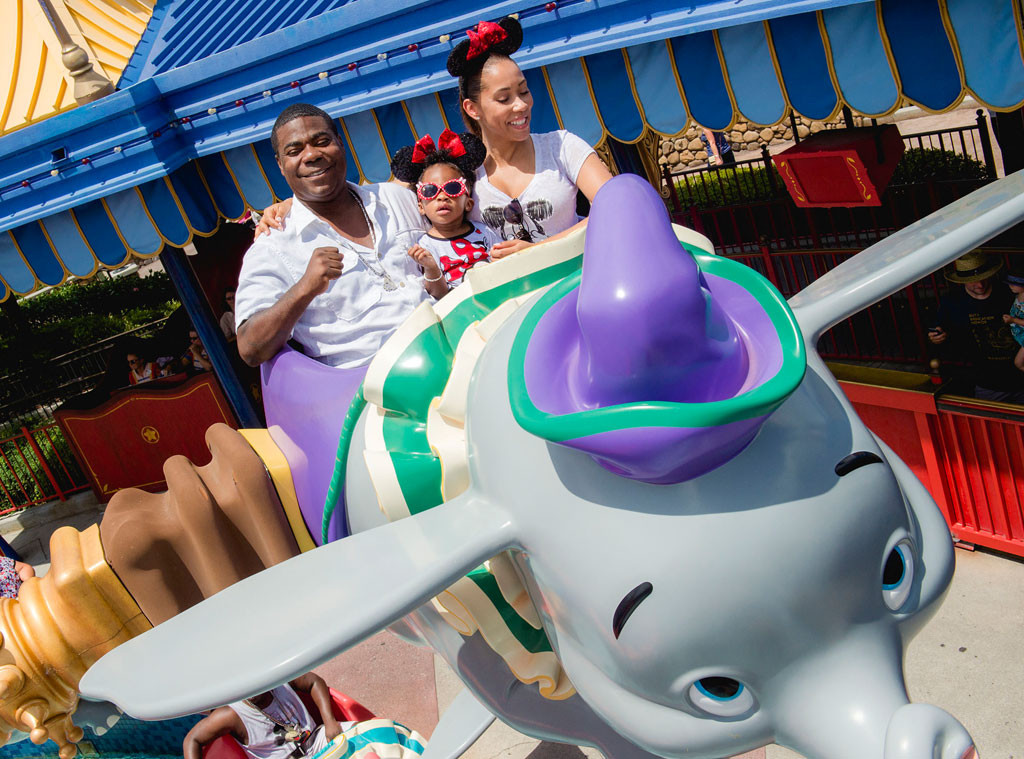 Chloe Rice/Disney
Well, this just made our Thursday.
Tracy Morgan, who suffered debilitating injuries in a fatal vehicle crash last summer, has slowly but surely been venturing out and about more often in recent months.
But this is the best sighting yet—the comedian and former 30 Rock star having a ball at Walt Disney World in Florida on Thursday with fiancée Megan Wollover and their daughter, Maven Morgan—who celebrated her second birthday today!
The happy-looking trio were snapped enjoying the Dumbo the Flying Elephant ride at the park's Magic Kingdom, both Megan and Maven sporting the requisite Minnie Mouse ears and the toddler also keeping cool in a pair of red sunglasses.
Morgan gave his first TV interview since the accident just last month, telling Today that he still wasn't "100 percent" after the six-vehicle pile-up that left his longtime friend, James "Jimmy Mac" McNair, dead and injured a handful of people in his entourage on their way back from a performance in Delaware.
"There were times where I had my good days and my bad days, where I forget things," the 46-year-old entertainer said. "There are times where I have the headaches and the nosebleeds. I wouldn't even let my lady know because I don't want her to be worried about it."
A negligence lawsuit filed by Morgan against Wal-Mart, which owned the truck that smashed into the comedian's SUV limo, was recently settled for an undisclosed amount.
"Bones heal. The loss of my friend will never heal because we'd known each other a long time," Morgan also said on Today. "But I'm happy that Walmart stepped up to the plate in a tremendous way...They took full responsibility. I'm just really happy that they looked out for Jimmy Mac's family, because I know my friend can rest in peace now."