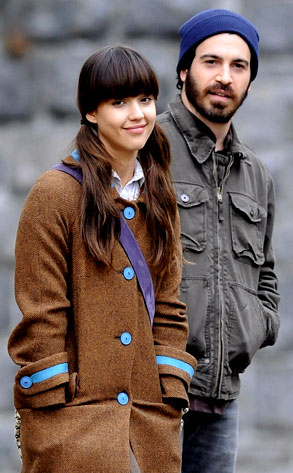 James Devaney/Getty Images
We don't know what looks stranger on Jessica Alba, that bowl-cut hair-don't or that sorta smile. We rarely see the generally glum Jessy with anything more than a frazzled frown. Maybe the Obama win heightened her mood from "blah" to "meh"?
Jess, with costar Chris Messina, is in New York filming the flick An Invisible Sign of My Own, which sounds like pretty much every generic thriller Alb's acted in throughout her whole career. Alba plays a math whiz in the movie, which makes us guffaw almost as much as that crap coif.
Can't believe an on-the-set stylist formatted Jess-hon's hair into this '70s mess for the duration of an entire film. It's best to leave the bangs to Suri Cruise, babe.
—Additional sass by Becky Bain