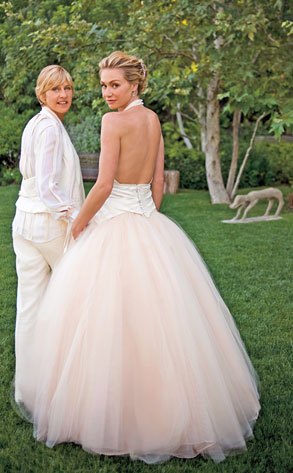 Jay L. Clendenin/Lara Porzak Photography via GettyImages
What I should really be peeved about is that hideous Narciso Rodriguez victory dress Michelle Obama chose to wear next to her fabulously historic and much needed newly elected husband, Barack.
What was she thinking? Doesn't she have any fashion-conscious girlfriends, any gay buds who could have advised her better?
Maybe they were all otherwise engaged trying to help defeat Prop 8, which makes gay marriage illegal in California? Very happy for the Obamas, truly I am. Hard to be ecstatic, though, right now.
Do you have any idea how demoralizing it feels to reside in a state where residents have voted to improve the rights of farm animals but lessen those of gay men and women? Say baaahh if you love Jesus!
And no, I have no intention of moving; the fight has only begun. Get ready for it, everybody. This will change. Just ask Ellen and Portia—and more than a few legal types—if you don't believe me.