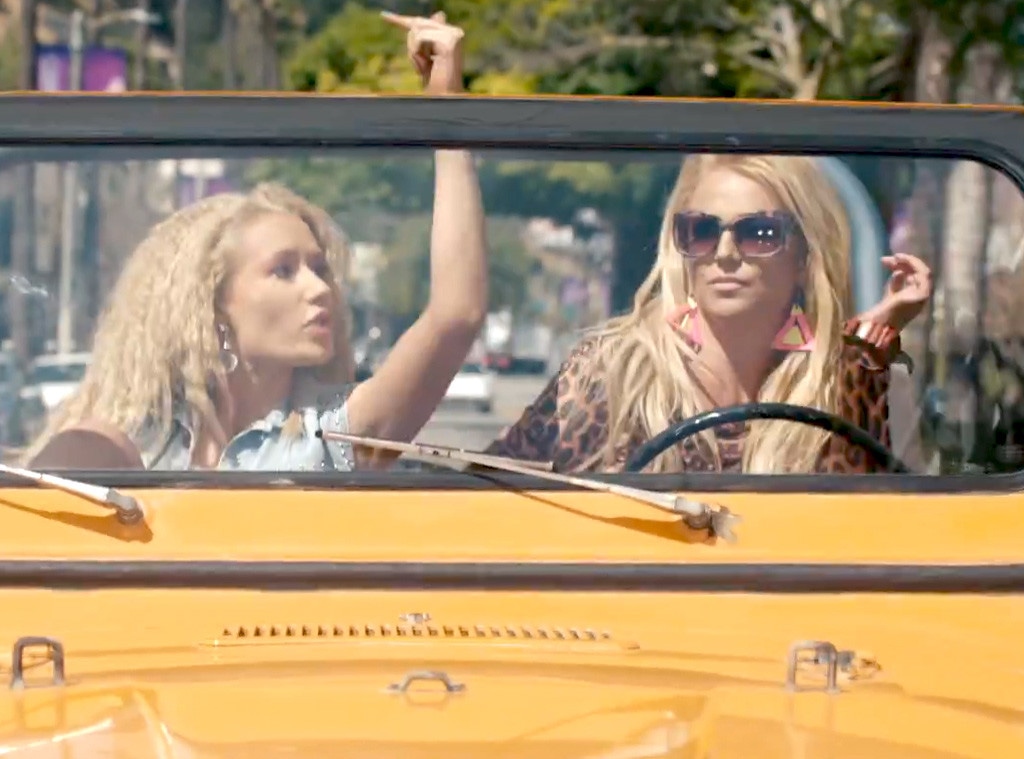 YouTube
Don't mess with Britney, bitch!
Iggy Azalea claimed she wasn't throwing shade at Britney Spears when she tweeted her opinion on why their "Pretty Girls" track was a flop.  Ms. Spears, however, wasn't necessarily convinced, and the pop princess fired back at Iggy on Twitter in the most masterful way.
"Can't wait to get back to Vegas," she tweeted. "So thankful I have shows for the rest of the year to look forward to... #YouWantAPieceOfMe"
BOOM! That's how it's done, y'all. Brit expertly worked in that subtle diss alluding to Iggy's cancelled Great Escape tour, and while Piece of Me is the name of her Las Vegas show, that #YouWantAPieceOfMe hashtag seems like it holds a special meaning for a certain Aussie rapper.
This all started after a Iggy responded to a fan on Twitter who her two cents on why "Pretty Girls" wasn't a hit. "its difficult to send a song up the charts without additional promo and tv performances etc," she wrote. "unfortunately I'm just featured.... would have enjoyed performing it alot, i think it got off to a powerful start. but you need content to compete in 2015."
Twitter had a freakout over this, and Iggy was quick to set the record straight in her, well, typical fashion. "my comment is factual, it applies to any song," she wrote. "I dont have to suck the womans a--hole 24/7 to be her friend, do i? bye girls."
Girl... "Genuine friends have genuine opinions," Iggy continued. "Its possible & healthy to have a differing thought without it being bitchy or shade."
Iggy kept going, insisting she wasn't dissing "Pretty Girls" or Britney. "i really love the song, and actually never said anything negative, only that i think there was room to do more with it," she tweeted. "its really not something you should feel mad or aggressive about. i love the song and i think Britney is great. why be angry?"
We're not mad! Still, the message Iggy meant to convey might be up for debate, but we can all agree Britney's response was perfection!