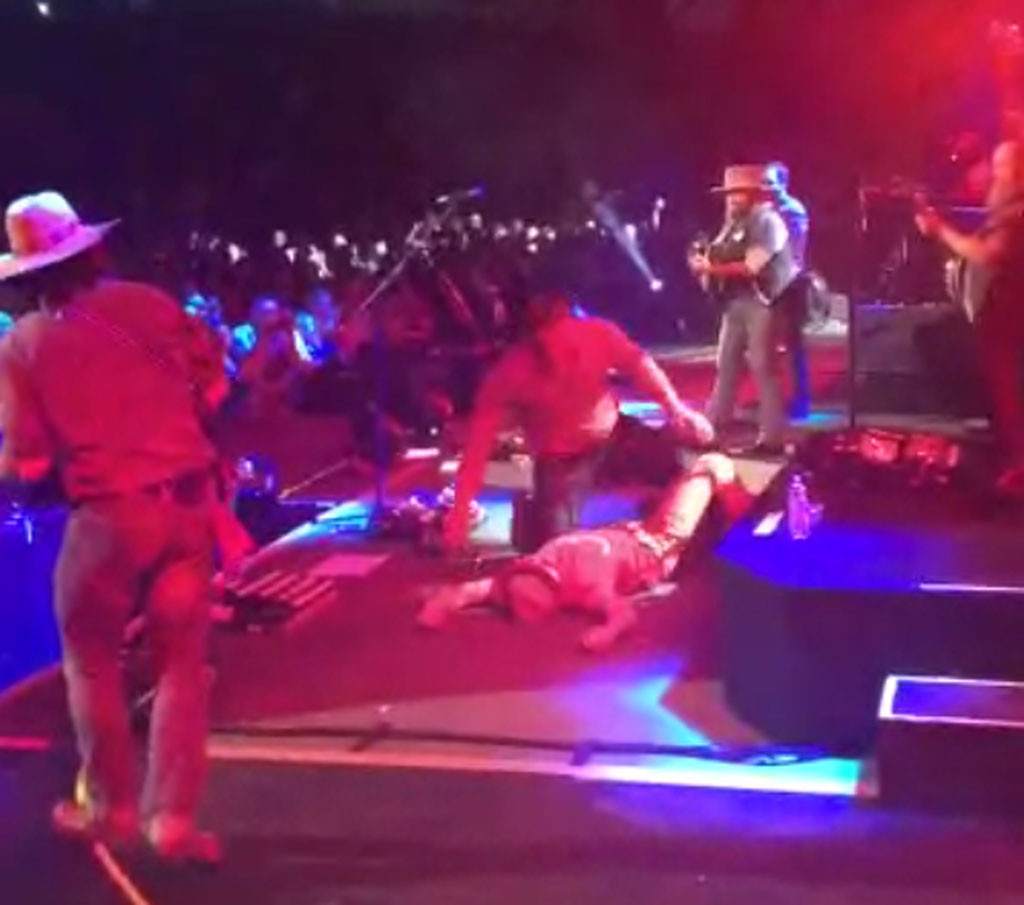 Twitter
Well, this escalated quickly!
On Sunday night, a guy who appeared to be just a fan rushed the stage during Zac Brown's concert. Luckily, the band had some strong security on hand in the form of Houston Texans defensive end J.J. Watt!
In a video posted on Watt's Twitter, the fan is seen jumping up on the stage, dancing, and then getting tackled by Watt. The athlete is known for breaking records in the NFL, and it looks like he's now already leading the season with tackles.
The concert was in Milwaukee, which is close to Watt's hometown of Pewaukee, Wisc. And while this could have been just a chance encounter, plenty have questioned if the tackle was, in fact, staged.
A rep for Brown has not yet responded to a request for comment. So, we decided to investigate for ourselves...
It appears that this "fan" and Watt have actually met before! We tracked down the fan's Twitter account and discovered, on July 4th, 2014, this guy, who calls himself @FlodyBoatwood, posted a photo with Watt, and in that photo, he's wearing a Zac Brown Band badge!
Ah, the plot thickens, with Zac Brown Band also tagging the "fan" in a tweet saying, "When @JJWatt​ and @FlodyBoatwood​ get together in Milwaukee = this."
Finally, upon further investigation, we discovered @FlodyBoatwood is actually Jake Bartol, who has starred in the band's music videos, and works with the band! As for his title, we can't say for sure that it's the same as it was years back, but it's listed that Bartol is a monitor engineer for the band.
Even though it now seems that the tackle was staged (or at least we hope so, because otherwise...ouch!), one thing is for sure:
Watt is ready for football season.
But when is he not? In 2014 he became the first player in NFL history to record two 20-plus sack seasons.
And he's constantly putting in the work to be greater (like when he "practices tackling" in the off-season. When E! News interviewed Watt earlier this year, he told us it's all about dreaming big and working hard.  "Every single day, making the sacrifices. You have to be willing to make the sacrifices every single day."
Of course, Watt is a tough guy, but don't let the sack records, and the tackling of a "fan" scare you, Watt has quite a big heart. Watt told E! News earlier this year he's looking to settle down somewhat soon. "Five years from now, I hope to have a wife, and maybe some kids, and trying to continue to play at the highest level possible, but also being a great husband, father, and just trying to be the best person I can be," he said.
Watt's looking for someone who is, "Sweet, caring, honest, humble. Just a good person, somebody that has good morals and values. I think that's the biggest thing, it's the type of person you are. That makes a girl more beautiful than anything, being a good person, and caring. All that stuff is way more important to me than looks, but obviously you can have a beautiful girl on top of that."
Sounds like Watt is actually quite the gentle giant. But try telling that to Jake Bartol.