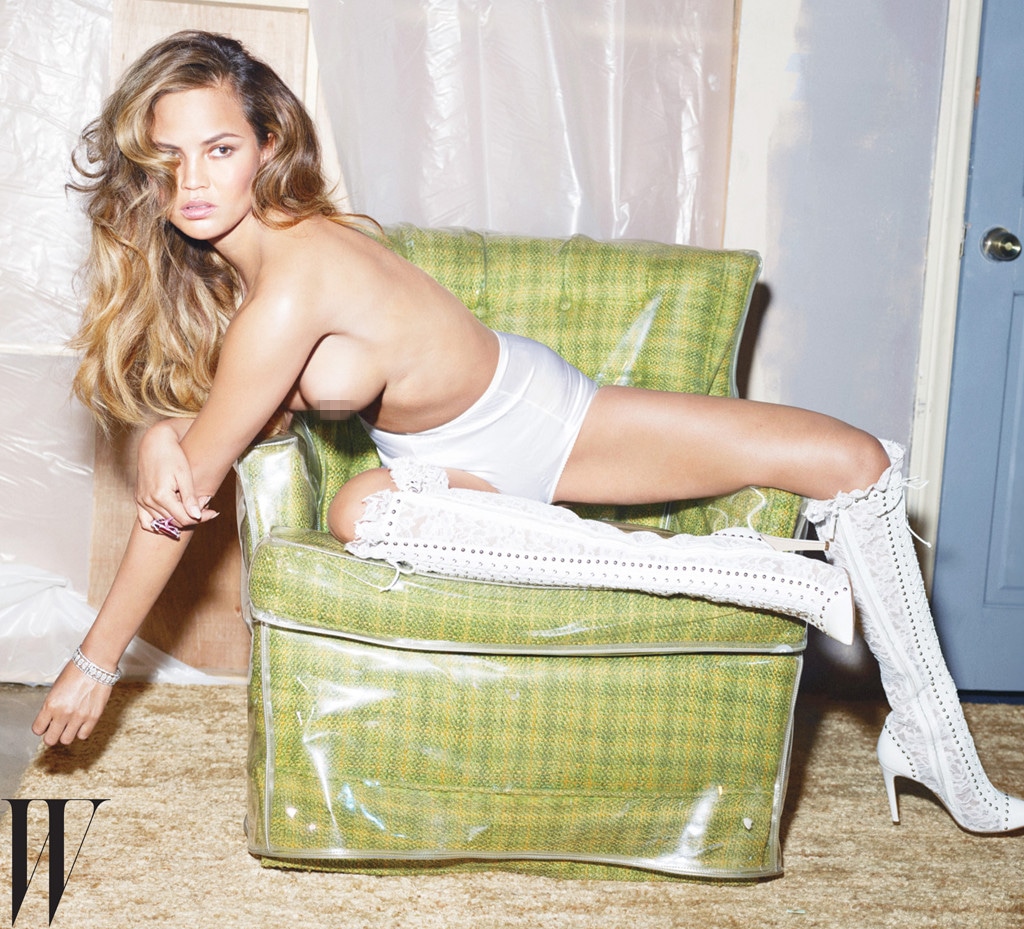 Mert Alas & Marcus Piggott for W magazine
Well, we're not exactly sure what people are seeing, but at least Chrissy Teigen has a great sense of humor.
The gorgeous model, who wowed fans with a revealing snapshot from W Magazine's August Pop Issue's 10 Sexiest Supermodels on Social Media which flaunted her bare breasts, got some criticism for her racy picture.
What else is new, right? But some of the comments were especially noteworthy. One user wrote, "I like Chrissy, sometimes lol other times yes she's annoying but I like that she's like F it that baby Fd my body up but so what."
Wait...what baby? And F'd what up?! She looks amazing! Regardless, Teigen found the humor in it, and reposted a screenshot of Team Curtain's post which included the comment on Instagram with the caption, "I can't stop laughing #thatbabyf--kedupmybodybutsowhat #nobaby."
The 29-year-old hovers over a green chair while topless, revealing her nipple, and wearing briefs with knee-high white boots that accentuate her long gams.
Since the picture shows off her bare breast, it was taken down by Instagram, but Teigen wasn't about to let that be the end of it.
"the nipple has been temporarily silenced but she will be back, oh yes, she will be back," she tweeted, and then proceeded to repost the professional photo with the simple caption, "oops." (So far, it's still up on IG.)
Her mother also posted the sexy picture of Chrissy and hilariously captioned it, "I like this couch."
LOL! We're sure more people would like it, too, if their eyes ever got to it.