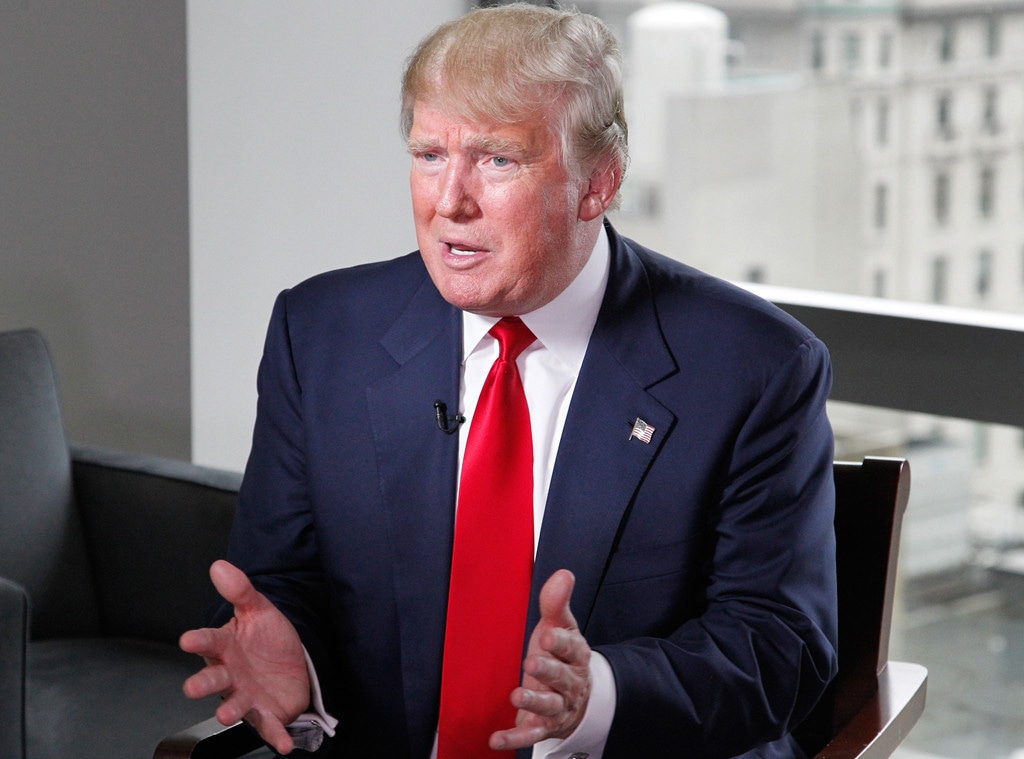 ABC/ Lou Rocco
Donald Trump probably didn't see this firing coming. 
After the real estate mogul's controversial comments about Mexican immigrants when he announced his bid for president last week, NBC has issued the following statement: 
"At NBC, respect and dignity for all people are cornerstones of our values. Due to the recent derogatory statements by Donald Trump regarding immigrants, NBCUniversal is ending its business relationship with Mr. Trump. To that end, the annual Miss USA and Miss Universe Pageants, which are part of a joint venture between NBC and Trump, will no longer air on NBC. In addition, as Mr. Trump has already indicated, he will not be participating in The Celebrity Apprentice on NBC. Celebrity Apprentice is licensed from Mark Burnett's United Artists Media Group and that relationship will continue."
During Trump's June 16 speech declaring his bid for the GOP nomination, he claimed the United States "has become a dumping ground for everybody else's problems," saying, "When Mexico sends its people, they're not sending their best. They're not sending you. They're sending people that have lots of problems, and they're bringing those problems with us. They're bringing drugs. They're bringing crime. They're rapists. And some, I assume, are good people."
Trump alleged that these "problems" are "coming from more than Mexico," saying, "It's coming from all over South and Latin America, and it's coming probably, probably, from the Middle East."
NBC's decision comes after more than 200,000 people signed a Change.org petition asking the network to sever ties with Turmp.
NBC isn't the only one cutting ties with Trump over his comments—on Thursday, the entertainment division of Univision Communications Inc released a statement to announce "that it is ending the Company's business relationship with the Miss Universe Organization, which is part-owned by Donald J. Trump, based on his recent, insulting remarks about Mexican immigrants."
The statement continued: "At Univision, we see first-hand the work ethic, love for family, strong religious values and the important role Mexican immigrants and Mexican-Americans have had and will continue to have in building the future of our country. We will not be airing the Miss USA pageant on July 12th or working on any other projects tied to the Trump Organization."
Trump's team released the following statement Thursday: "The Mexican government and others are putting tremendous pressure on Univision to break their signed and fully effective contract with the Miss Universe Organization because Mr. Trump has been exposing to the public, and the world, the significant damage that is being done at the southern border, and the terrible and costly trade deals that the United States is  incompetently making with Mexico (these deals are great for Mexico and horrible  for the United States). This has been sharply and openly brought out during Mr. Trump's run for President of the United States. 'Mexican leadership has been doing serious damage to the United States by out-negotiating our representatives and political leaders.  They are taking our jobs, taking our money and at the same time hurting us at the border with illegals from all over the world freely flowing into our country.'  Mr. Trump cannot be silenced on this very important problem for the United States. I have great respect for Mexico and love the Mexican people, but my loyalty is to the United States and making our country great again!"
Trump also addressed the Univision fallout on Twitter, writing, "Mexican gov doesn't want me talking about terrible border situation & horrible trade deals. Forcing Univision to get me to stop- no way!"
He continued: "Univision wants to back out of signed @MissUniverse contract because I exposed the terrible trade deals that the U.S. makes with Mexico...I love Mexico but not the unfair trade deals that the US so stupidly makes with them. Really bad for US jobs, only good for Mexico."
(E! and NBC are both part of the NBCUniversal family.)