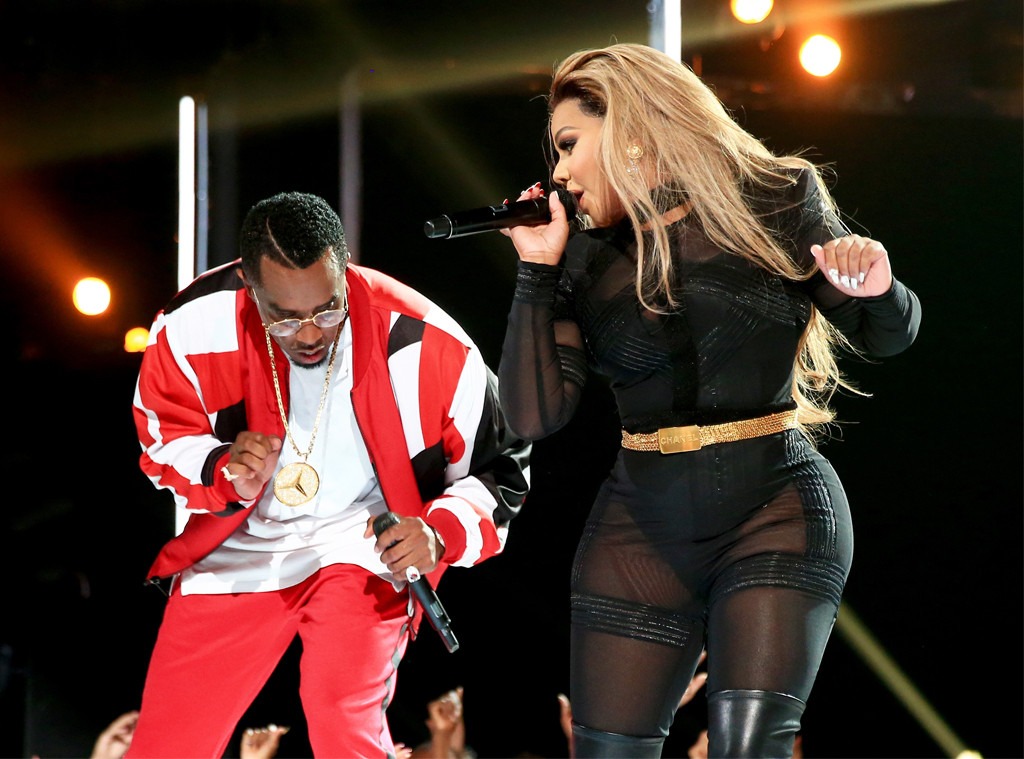 Christopher Polk/BET/Getty Images for BET
The 2015 BET Awards celebrated its 15th anniversary on Sunday night, which was fitting because the biggest and best moments of the night were all about throwback performances, appearances from old school artists and mashups of greatest hits.
From the Janet Jackson tribute to Rihanna's duct tape mystery, here are the best and worst moments from the 2015 BET Awards:
Throwback Mashup: Old-school Diddy? Mase? 112? Lil' Kim? The greatest hits performance honoring 20 years of BET Awards was ever-y-thing. They brought the house down. And speaking of down...
Diddy Goes Down: During that now iconic BET moment, Diddy took a tumble. It almost looked like it was part of the performance. Almost. 
Empire Love: Terrence Howard's sweet shout out to Empire costar Taraji P. Henson when he accepted his Best Actor award was totally adorable. On a related note, can that show come back like, tomorrow?!
Mark Davis/BET/Getty Images for BET
Twinsies: Gabrielle Union and Laverne Cox wore the same white dress and they both looked flawless. But someone had to change. After some hip-hop trivia, Gabrielle admitted defeat and said she would switch outfits for the after parties.
Destiny's Who? Kelly Rowland stumbled over the name of Destiny's Child…you know, that super successful iconic girl group she was a part of back in the day. She recovered well, though, and you could tell even she was surprised by her slip-up.
Patti LaBelle Shuts It Down: One of the final performances of the evening included a cameo by the one and only Patti LaBelle. She sang the s--t out of that song and even gave a cute little speech about the recent Supreme Court ruling on marriage equality, saying "all people can love whoever you want and you can even get married."
Mark Davis/BET/Getty Images for BET
Sam Smith Misses Out: The crooner won Best New Artist, but he wasn't there to accept the award, so Anthony Anderson, in a Sam Smith-esque wig, picked it up for him. "Sam Smith isn't here tonight because he's white," Anderson quipped. "And he didn't think he would win at the BET Awards and we showed him that we love him, too!"
Anderson ended his acceptance speech with a little song in the tune of Smith's smash hit "Stay With Me": "This award is going to stay with me, for you not showing up to BET."
B2K TBT: Chris Brown's performance was just fine until Omarion got onstage. It's not like we didn't enjoy an appearance by the former B2K boyband member, but instead of Twitter applauding his performance, they were too busy wondering where the hell he has been or what he was doing there. 
Chris Pizzello/Invision/AP
Working for The Weeknd: It one of the most anticipated moments of the night, and it did not disappoint. The Weeknd performed his hit song "The Hills" and killed it, but when Alicia Keys showed up to help him sing the Fifty Shades tune "Earned It," it brought the crowd to its proverbial knees.  
Empire State of Mind: This year's hottest new show hit the BET Awards when the cast sang hits from the Fox drama: "Drip Drop," "No Apologies," and the catchy "You're So Beautiful." If you weren't bouncing in your seat, you were probably asleep. Or dead.
Motherly Love: Nicki Minaj brought her mom onstage with her to accept the award for Best Female Hip-Hop Artist, which she has won six years(!) in a row. Also, how sweet was Meek's giant smile while he watched his girl up onstage?
MIA Hosts: Black-ish stars Anthony Anderson and Tracee Ellis Ross were supposed to be hosting the BET Awards, but we rarely saw them! It was such a wasted opportunity of two talented comedic actors.
A Smokin' Tribute: When you have so many iconic songs, it's pretty daunting to pay tribute to someone like Smokey Robinson. But Tori Kelly, Ne Yo and Robin Thicke were up for the challenge and it made for a performance you couldn't help but dance along to. 
Christopher Polk/BET/Getty Images for BET
Rihanna's Duct Tape: This is in the worst moment category because we did not get an immediate answer as to why the hell Ri Ri was working a roll of duct tape while sitting in the audience. She apparently ended up duct-taping the hands of Floyd Mayweather, but Twitter had its own theories.
Try and Walk This Way: Not even the most gorgeous, graceful celeb could maneuver that conveyor belt without looking completely awkward. Who decided to use that thing?! Every time presenters came out we were cringing and wincing, hoping they wouldn't fall.
Smokey Telling It Like It Is: During his acceptance speech for the BET Lifetime Achievement Award, Smokey Robinson dropped this truthbomb about today's artists:  "You didn't start this. You were not the first in line. The line started way, way, way, way, way before your great, great, great grandparents were born. Also, you are not the end of the line. So don't be so full of yourselves." And when he sang "Tracks of My Tears" and everyone sang along with him? Goosebumps. 
On Your Feet: With an American Flag waving in the background, Kendrick Lamar stood on a spray-painted cop car and got the crowd pumped up with his performance of "Alright." It was the perfect way to open the show.
Mark Davis/BET/Getty Images for BET
J-A-N-E-T: Janet Jackson looked so ridiculously gorgeous while accepting the Ultimate Icon: Music Dance Visual Award, it's hard to believe she's pushing 50. And while no one will ever be able to move like Janet, Ciara did a pretty badass job filling in during the tribute performance.
Rihanna's Underwhelming Preview: Fans were foaming at the mouth when Rihanna said she was previewing her music video for "Bitch Better Have My Money." Unfortunately, we didn't see much at all, and barely any of Ri Ri herself. So we were disappointed, but at least we'll get the full video this week so we don't have to wait much longer.
What Was This Award For? Oh, Nicki. She wins so many awards that she can't even keep them all straight! When Nicki Minaj accepted the Viewers Choice Award and started giving a speech, she momentarily had a brain fart and had to ask someone what award she just won.
"Uh, what was this award for? I'm sorry. Oh! Viewers Choice! Oh my god, y'all, thank you," she said, laughing. "I was in the back! Oh, y'all. My fans. You all know how much I need and want you."
What was your favorite from this year's BET Awards?