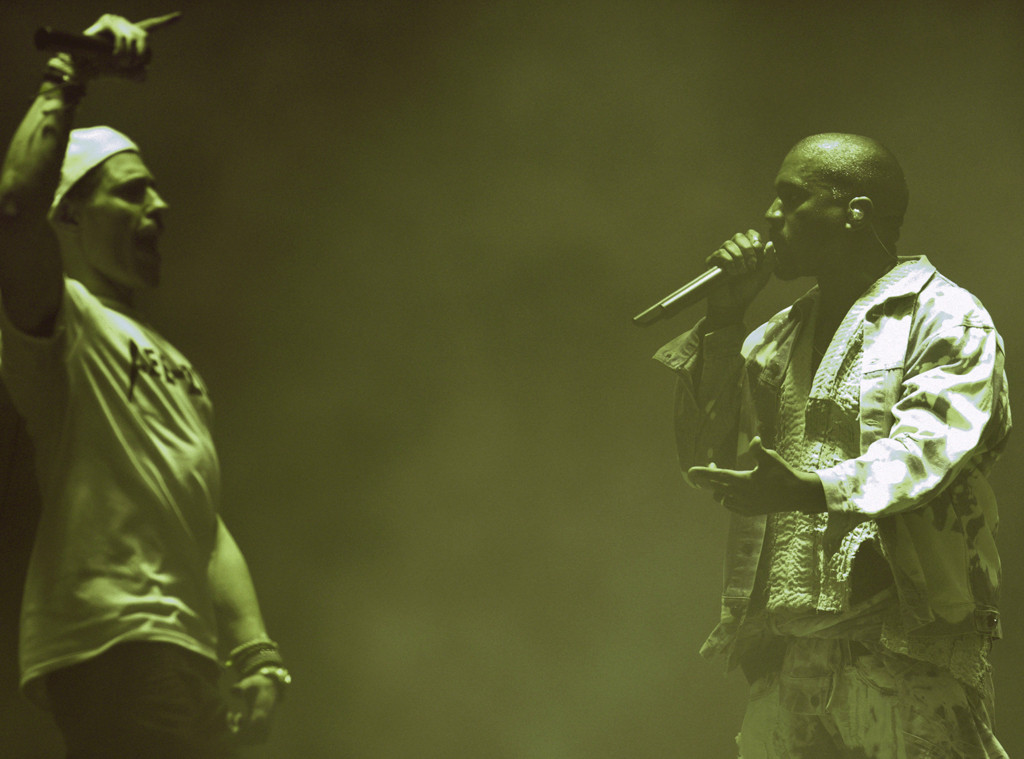 OLI SCARFF/AFP/Getty Images
Do not interrupt the one and only Yeezus!
After plenty of buzz, "All Day" rapper Kanye West finally had the opportunity to perform a headlining set at the Glastonbury Festival Saturday night. But after just a few songs, Kim Kardashian's husband got a surprise when a fan stormed the stage with little to no warning.
Wearing a white T-shirt with the words "Lee-Zus," the unidentified man decided to appear during a rendition of "Black Skinhead." In fact, he practically tried to rap part of the lyrics while holding a mock microphone.
With a little bit of digging, however, E! News has learned Lee Nelson, the alter-ego of comedian Simon Brodkin, performed the stunt that ultimately got him escorted off in about "FourFive Seconds."
"Some people were saying Kanye shouldn't headline Glastonbury," Nelson tweeted to his 94,000 Twitter followers when trying to defend his actions. "So I decided to give him a hand."
Festival organizers received some criticism after announcing West as the Saturday headliner. An online petition was even created that ultimately proved to be unsuccessful.
Instead of speaking out about the incident, West appeared to remain calm. In fact, he simply decided to start his single from the very beginning once the surprise visitor left the stage.
West's wife also remained relatively quiet in regards to the stage crasher. At the end of the show, she simply tweeted: "Glastonbury 2015! Craziest show ever!!!!!" 
Glastonbury is a star-studded music festival held every year in England. Before West's performance, The Voice coach Pharrell Williams impressed the audience with his set including a special encore of "Happy."
Bradley Cooper, Chris Martin, Adele, fashion designer Stella McCartney and racecar driver Lewis Hamilton were just some of the 135,000 fans spotted enjoying the lineup.