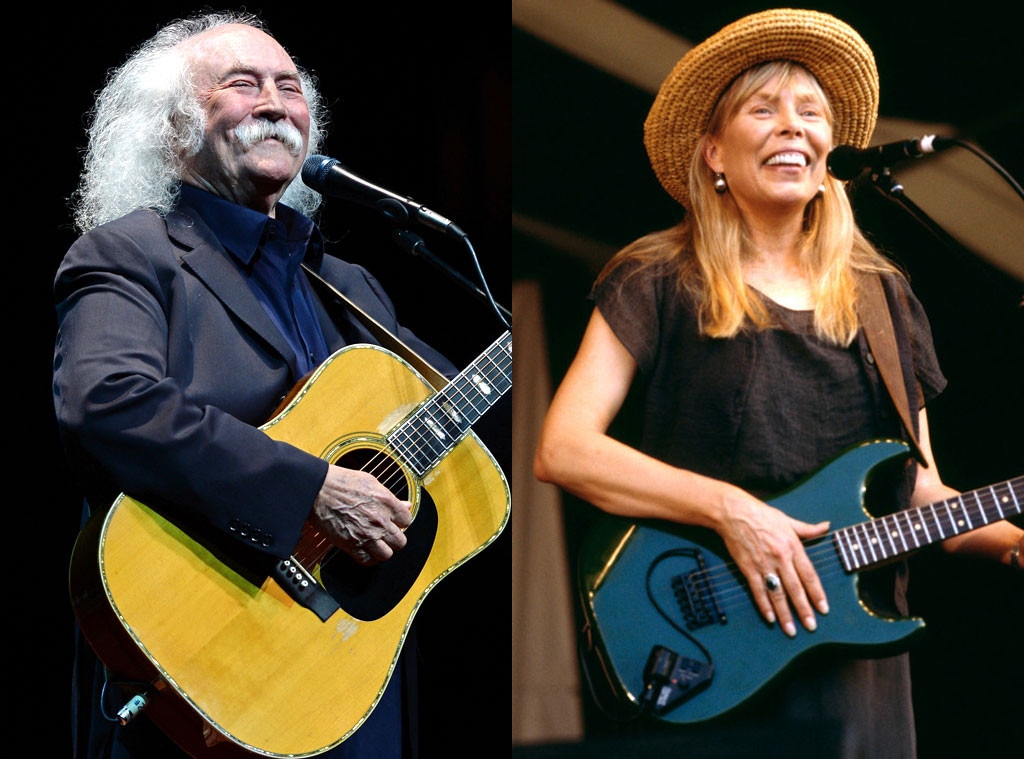 David Redfern/Redferns, Larry Marano/Getty Images
UPDATE: An official statement about Joni Mitchell, posted on Sunday, says the singer did suffer an aneurym and is able to speak.
__________________________
David Crosby says Joni Mitchell suffered an aneurysm when she was hospitalized earlier this year and is unable to speak.
The 73-year-old Grammy-winning folk rock star made his comments to HuffPost Live in a video interview posted on Friday. Mitchell, who is 71 and is an eight-time Grammy winner, was hospitalized in March after being found unconscious in her home. A health update was posted on her website in April, saying the folk rock singer-songwriter "comprehends, she's alert, and she has her full senses. A full recovery is expected."
"I have not spoken with her. To my knowledge, she is not speaking yet," Crosby told HuffPost Live. "She is home, she is in care, she is recovering. How that's gonna go, we don't know yet. She took a terrible hit. She had an aneurysm and nobody found her for a while and you know, she's gonna have to struggle back from it the way you struggle back from a traumatic brain injury."
"She's a tough girl and very smart," he added. "So how much is gonna come back and when, I don't know and I'm not gonna guess. I love her. She was my old lady at one point."
David Warner Ellis/Redferns/Getty Images
Mitchell and Crosby met in the '60s and have collaborated on music together. She's known for hits such as "Help Me," "Woodstock and "Free Man in Paris."
"We became fairly fast friends, you might say," Crosby said in an interview with JoniMitchell.com in 1997. "I was extremely fascinated with the quality of the music and the quality of the girl. She was such an unusual, passionate and powerful woman. I was fascinated by her tunings because I had started working in tunings, and I was writing things like 'Guinevere.' So things like that made me very, very attracted to her."
"We used to play songs to each other all the time," he added. "But I think she just outgrew me."
In his interview with HuffPost Live, Crosby said Mitchell is "probably the greatest living singer-songwriter," adding that it's either her or Bob Dylan.
"I think we're all holding our breath and thinking a good thought, you know, hoping that it's gonna turn out OK," he said.