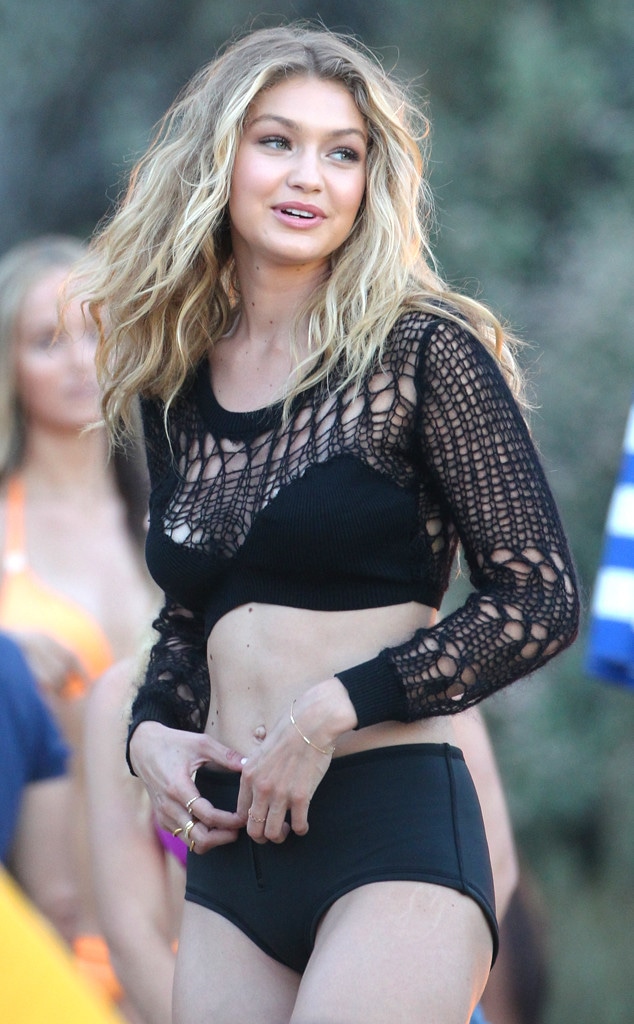 © PacificCoastNews
Look who's got back! 
Gigi Hadid's envious derriere was on display in black high-waisted bikini bottoms today as the model reportedly shot scenes for Calvin Harris's new music video for the single "How Deep Is Your Love," a collaboration between the DJ-producer and London-based EDM trio Disciples.
The blond bombshell was all smiles and topped off her video vixen look with a long-sleeved mesh crop top and Seafolly bikini bottoms that showed plenty of skin.
We can't help but think that everyone's favorite famous friend (and one certain Scot's girlfriend), Taylor Swift, had a little something to do with Hadid's latest gig, though it's not as if the runway queen needs any help getting work!
The same day she was busy dancing around on the beach to what will most likely be the next song that we can't get out of our head, Hadid also took to Instagram and revealed her new Vogue Brazil cover.
Talk about It Girl. Everyone else, well, you all can just go home now. 
On the new issue, Hadid strikes a sultry pose and puts on a perfect pout as she stares right at us. Almost into our souls, really. Her luscious locks are swept to one side, showing off her fierce statement earrings.
And that isn't the only cover the stunning star is gracing right now.
Gigi and sexy supermodel sister Bella Hadid are double the hotness and showing lots of skin on the cover of V V magazine. 
The elder sis shared her three-part plan when it comes to her burgeoning modeling career: "What I've been doing a lot every day is I have three goals: be kind, work hard and make a friend." 
She added, "When I do those little things on set every day, those are the things that then lead to creating relationships and building opportunities. Because you don't know who those people are gonna go have dinner with and talk to that night."
Bella echoed the sentiments, saying, "No matter if they're working next to you, below you, or above you, be kind and generous to everyone you meet. Yeah, it's bizarre because it's weird for people to be nice these days."