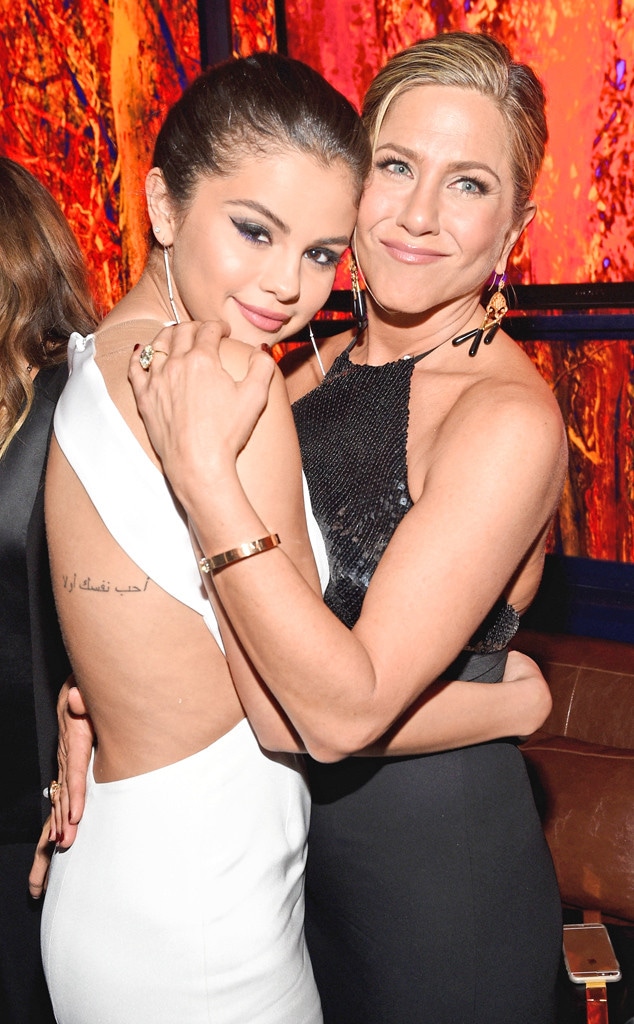 Michael Buckner/Getty Images for InStyle
Just picture it: girls' nights in with Jennifer Aniston whipping you up a delicious, homemade pizza and gabbing about everything from boy advice to beauty tips. Ah, now that would be awesome.
That's exactly what Selena Gomez does, you guys, when she hangs out with the former Friends darling.
The "Good for You" singer opened up about her gal pal during a recent radio interview with KTU's Carolina Bermudez and dished about how the two unlikely friends got to meeting one another in the first place.
"We met through my management," the brunette beauty shared. "They manage her as well, so it was kind of like a friendly meeting and instantly she's, like, inviting me to her house. She has a pizza oven. Like, we've made pizzas at her house." FOMO kicking in, we're fine, we'll get over it, moving on…
"She's very cool and very sweet. She kind of gives me a lot of, like, maternal advice," Gomez added.
Of course this isn't exactly the first time that the singer has waxed poetic about the 46-year-old.
During this year's awards season, she shared a photo of the two hugging at an after party and gave her stamp of approval on Aniston's dramatic film Cake.
"I have no only been following her career as a fan since I was 8 and now get to watch her completely transform in her new movie Cake, I have gotten to have real conversations with such a real heart, made my entire year. #cake #goseeit."
And just days later, Aniston returned the love and told E! News, "[Selena's] just like a little cherub that I feel like I wanna take care of...She's been extremely supportive and wonderful."
Good girls gotta stick together, right?!